Sani Kaita, the Nigeria midfielder, who was sent off for kicking Greece defender, Vasileios Torosidis during the second Group B match between the Super Eagles and the Greek side spoke to P.M.Sports about the death threat he's been receiving from angry soccer loving Nigerians.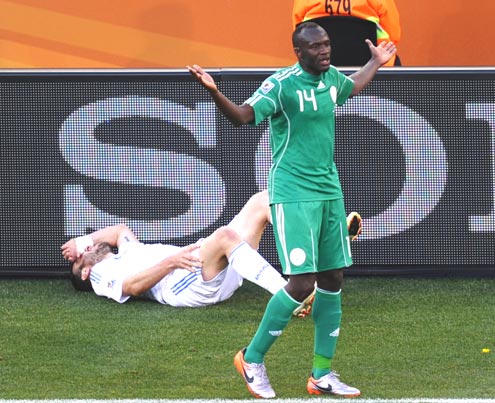 Q: What's this report about death threats, can that be true?
A: Yes, it's true. I have received uncountable death threats because of the red card I got in our match against Greece last Thursay. I cannot lie about it now.
Q: Do you know those behind these threats?
A: No, I don't know them but God knows them, God created all of us and He is the only one who can say yes or no to whatever one is doing at any point in time.
Q: You claimed that the death threats were coming to you through an email, are these people not your friends or relations who have your address?
A: No, I don't know these people at all. I don't know how they got through to my mail box.
Q: How do you feel about the mails and the reaction of the NFF to the threats?
A: Well, I'm not disturbed about their threats because I'm not the owner of my life. I'm a believer, as a Muslim, only God can say I would die or live till anytime. Everything on this earth is in God's hands. I told some international journalists who interviewed me on this matter yesterday that nobody can kill me. Only God, who created me has absolute power to do anything to me. If these people try to kill me and God says no, can they query Allah? No, so God holds my destiny just like any other Nigerian out there. Our destiny is in Allah's hands, that is what my religion teaches me.
Q: What about the action of the Nigeria Football Federation, NFF, that alerted the Federal Government of Nigeria to step up security for the Eagles, especially you?
A: I'm happy about the action of NFF and I thank my concerned fans who have been calling or mailing me on this matter. I thank my family for standing by me at this crucial time, it's really a trying moment for me.
Q: If you had a second thought, would you have done what you did to the Greek star?
A: Never, I have been apologising to our people back home to please forgive me. It was a costly mistake. I have had sleepless nights, thinking over and over again. My action was a bad one and I feel terrible that my sending off contributed to our loss of that important match.
Q: But, what you are saying has not reflected in your training, how are you coping?
A: Yes, I try to forget it as soon as I enter the field to train with the other players. My teammates even told me that I'm doing better in training as if nothing had happended. It's been very emotional but I hope we will move to the next round.
Q: You will miss the must win match against South Korea on Tuesday (tomorrow), what are your colleagues saying about the match?
A: They are desperate to beat Korea and I will be very glad if they do that. I'm praying hard for the team to win and it's really painful that I will be out of the game. I hope that Nigerians will forgive me on what happened, I think it's all my fault.
Load more