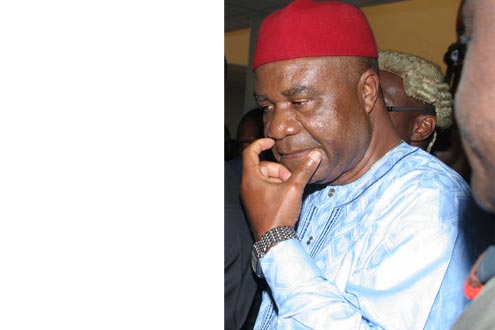 A 17-count amended charge filed by the Independent Corrupt Practices and Other Related Offences Commission (ICPC) against the former National Chairman of the People's Democratic Party (PDP), Chief Vincent Ogbulafor and two others, was this morning read to them before Justice Ishaq Bello of an Abuja High Court.
Ogbulafor and the two others pleaded not guilty to the 17-count charge. One of the accused persons in the original charge, Mr. Henry Ikoh, whose name featured alongside Ogbulafor in the former charge in their earlier arraignment, was missing in the amended charge. To this effect, his lawyer, Mr. Goddy Uche made an oral application requesting that his client who was in the dock be discharged on the basis that his name did not appear in the new charge.
He argued that there is no longer any basis for his client to appear before the court. Justice Ishaq Bello obliged and discharged Henry Ikoh.
The name of another accused, Mr. Emmanuel Bosah, whose death had earlier been communicated to the court, was also struck out of the charge sheet, leaving only Vincent Ogbulafor, Emeka Ebilah and Jude Nwoke to stand trial in the newly amended 17-count charge.
Emeka Ibilah on account  17 of the amended charge was alleged to have fraudulently received N104 million through three companies which were fraudulently cleared for executed unawarded contract to the Federal Government during the contract verification exercise. In count 14, the former PDP National Chairman was alleged to have received N28 million belonging to the Federal Government of Nigeria from the same Emeka Ebilah.
However, Ogbulafor has filed an application urging the court to quash the amended charges slammed against him by the ICPC. The hearing of Ogbulafor's application has been fixed for 14 July 2010.
—Felix Nnamdi/Abuja
Load more