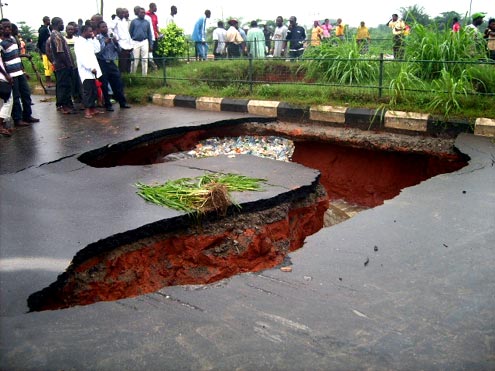 Less than two years after it was built, a portion of the over N5 billion LASU-Iba road built by the Lagos State Government has collapsed, leading to heavy traffic gridlock in the area.
A portion of the road from LASU towards Igando at Agboroko and Nigerian Army Officers' Village bus stop had collapsed after a heavy downpour at the weekend.
Heavy traffic gridlock was noticed to and from LASU all throughout the day as motorists groan and spent hours in hold up occasioned by the collapse of the road, thus, making the lane from Iba to Igando impassable.
Officials of the Lagos State Traffic Management Authority, LASTMA and the Federal Road Safety Corps had a harrowing experience in controlling traffic on the ever busy route.
The contract for the road was given to the China Civil Engineering and Construction Company, CCECC and the construction of a bridge.   The road was barely two years old before it collapsed on Sunday night.        Motorists who took that route were trapped in the traffic for hours.
Those who could make a u-turn had to do so at every available place to escape from the traffic jam that  lasted throughout yesterday, while motorists who could not turn were trapped for several hours.
Hundreds of Lagosians gathered at the failed  portion of the road, wondering what could have happened to the newly constructed road to have collapsed so soon.
The road collapsed, leaving  a gaping hole across it.
"It happened not too long before I got to the place and luckily there was no vehicle at the spot or commercial motorcycle," said an eye witness, Mr. Tunde Sulaimon.
Another resident in the area said that "The heaps of refuse and used plastic bottle water inside the hole indicates that the road has been wearing at that portion for long. When it could no longer withstand the pressure of the torrential rain on Sunday, it caved in.
"The fear now is that we do not know whether there are several other places like that on the road that can fail in the nearest future."
P.M.NEWS observed that many commuters resorted to trekking as  the vehicles they boarded was stuck in  the traffic gridlock.
They called on Governor Babatunde Fashola to do something urgent about the road in order to alleviate the plight of the people.
In the next few days, many Lagosians will still experience traffic gridlock in the area as the failed portion had not been fixed by the state government.
As a result of the traffic gridlock, transportation fares charged by commuter bus drivers  went up. The drivers now charged between N150 to N200 from a trip from Ikotun and Iyana-Ipaja to Iyana-Iba instead of the normal N100 fare.
LASTMA officials, the police and the Federal Road Safety Corps were mobilised immediately the incident happened and they went to the scene to control the chaotic traffic situation.

—Kazeem Ugbodaga
Load more