Reprieve came the way of the former chairman Board of Directors, Nigerian Ports Authority (NPA), Chief Olabode George in his appeal against his conviction as the Court of Appeal this morning dismissed the application of the EFCC prosecutor, Festus Kayemo to bring in fresh evidence.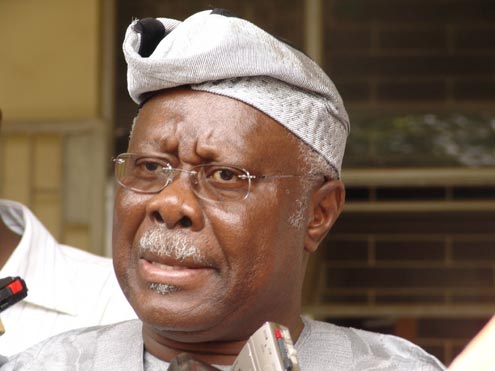 The defence counsel, Tunji Ayanlaja (SAN), Dr. Abiodun Layonu, (SAN) and  14 other lawyers had earlier contended that at the lower court, the EFCC counsel, Keyamo did not seek the legal fiat (permission) of the Lagos State Attorney General to prosecute the convict.
Keyamo then filed an application to bring in the fiat of the Lagos State government while relying on the authority of Amadi Versus the State to do so.
However, in a unanimous ruling this morning, the Appellate court while dismissing Keyamo's application, said the cited authority was not applicable in the case.  The court said Keyamo as officer in the temple of justice was supposed to assist the court and not mislead it. The court advised Keyamo to file his brief in the appeal proper within 14 days.  Bode George's counsel said they had filed their brief since January.
An Ikeja High Court in Lagos convicted Bode George and five others on 25 October last year  on a 23-count charge of abuse of office. George was found guilty for disobedience of lawful orders and the awarding of contracts to the tune of about N100 billion.
Those convicted along with him were former managing director of the authority Aminu Dabo, Olugbenga Abidoye, Zanna Maideribe and Sule Aliyu, who were members of the board.
They were all accused of flagrant abuse of office and the splitting of contracts to make it possible for the board to award a total sum that was far above its authority to do. Their trial lasted 15 months.
In passing his judgment, Justice Olubunmi Oyewole said: "When public office is abused, the entire populace is assaulted. This must not be condoned or treated with kid gloves. If the quality of service in our public life is to be altered to the appreciable standard of the civilised world, the right deterrent should be given. For the right deterrent to be served, therefore, sufficient firmness must be demonstrated."
George, who is serving his jail term in Kirikiri, was the  former deputy national chairman of the PDP. He was in the run up to the 2007 election the director general of the Yar'Adua-Jonathan Presidential Campaign Organisation.
Load more