What could have thrown Benue State into a mourning  was averted by police escort and other security personnel attached to the governor of Benue State, Mr. Gabriel Suswam after they ran into a road block mounted around Gudi and Garaku in Nasarawa State by some suspected armed robbers who had earlier held some motorists captive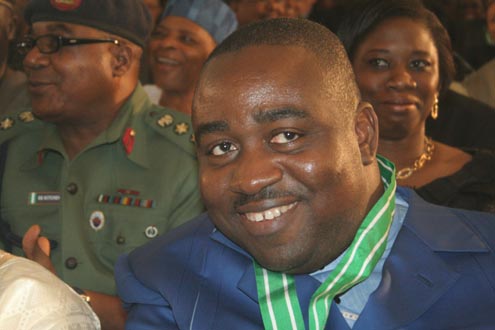 We gathered that Governor Suswam was on his way to Abuja from Makurdi, the state capital when he ran into the road block mounted by the armed robbers.
However, on sighting the governor's convoy, the suspected armed bandits abandoned the road block and took to their heels, leaving behind some motorists  they had earlier held captive at the scene.
In a press statement made available to P.M.NEWS, the Special Adviser to Governor Suswam on Media and Public Affairs, Dr. Cletus Akwaya, said the alertness of the governor's security personnel on Governor Suswam's convoy averted what would have been an awful situation.
According to him, "when the security men noticed the unusual scene, they quickly alighted from their vehicles and dismantled the road block to open the road once again to traffic and rescued the motorists attacked by the robbers."
Akwaya stated that "there was no exchange of gun fire as the robbers had hurriedly abandoned the illegal road block on the approach of the Governor's convoy."
This is not the first time governor of  Benue State had an encounter with armed robbers. The immediate past governor of the state, Hon. George Akume, now a serving senator, also had a bitter experience on Nassarawa State highway in 2004  when his convoy was ambushed by armed bandits along Nasarrawa- Eggon road. The attack led to the death of Chief Andrew Agom, one time Managing Director of Nigerian Airways and a PDP stalwart in the state
—Ubong George/Makurdi
Load more