The Awujale of Ijebuland, Ogun State, Nigeria, Oba Sikiru Kayode Adetona, ogbagba II who will tomorrow round-off the celebration of his 50 years on the throne.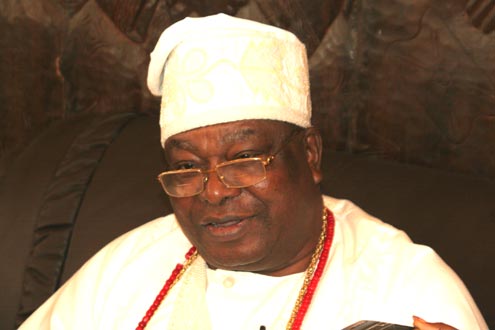 In an interview with P.M.NEWS in his palace at Ijebu Ode, the monarch, when reminded of his claim in 1983 that the Ijebus are from Waddai in Sudan, said every tribe in the country migrated from somewhere.
Says Oba Adetona: "Let me tell you, there are ways of settlements, even before Oduduwa came to Ile-Ife, Ife was already in existence. All you just have to do is go to history books, you'll see all these things there."
Reminded that the statement is often used against the Ijebus with people regarding them as aliens, Awujale described such act as rubbish, saying "how can they use it against the Ijebus? Who is using it against them? What about others? Are they not from other areas before they settled here?"
Oba Adetona who marked his 76 birthday on 10 May, 2010 said no Nigerian has any right to use the source of migration against another as it is evident all over the world that everybody has his or her roots.
In his royal message, the Awujale advised traditional rulers to steer clear of partisan politics as it is obvious that their subjects can never belong to the same political party and a royal father must not seen to be taking sides.
He told P.M.NEWS that his memorable encounter with the first civilian governor of Ogun State, the late Chief Olabisi Onabanjo, in 1983 occupies a chapter in his book that will be launched tomorrow at the grand finale of his coronation anniversary at the Gateway International stadium, Ijebu-Ode.
On the clash between him and the Ooni of Ife, Oba Okunabde Sijuade, Oba Adetona said: "Don't forget, people try to say we have differences, no, not at all. I am the Awujale of Ijebuland, my instrument of office says so. Ooni is Ooni of Ile-Ife, the instrument of office given to him states so.
"All the claims he is making now are not correct, they are not tenable. The first time the Obas ever met in Yorubaland was in 1937. Before then, they never met, so I think the man is playing politics, trying to over price himself," Awujale explained.
Asked if they've both met of recent, the paramount ruler exclaimed: "Where and for what!?"
He stressed that they were not competing for anything and he has no cause to go to Ile-Ife just as Ooni has no mission in Ijebuland.
—Jide Osokoya
Load more