The King of World Beat, Otunba Sunday Ishola Adeniyi Adegeye  a.k.a. King Sunny Ade, lost his mother last Friday. He spoke about the deceased, what he will miss about her and other things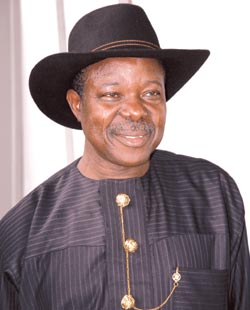 Q: Sorry for the loss of your mother.
A: Thank you very much.
Q: How did she die?
A: The day she died, I went to see  her and she prayed for me for a very long time and according to the lady who was with her, she did not talk to anybody when I left until she died.
Q: What did she tell you?
A: That is personal.
Q: Did you have any premonition of her death or did she show any sign that she was going to die?
A: Not really, but she was speaking to me in parables, asking how I would feel if she travelled and I asked her, "are you going?" She said no, and jokingly, I told her I am old enough to take care of myself and she said if she goes, nobody should cry or celebrate, especially me.
Q: You left your mother for a show. Did you see any sign while performing?
A: Not really, but the sign was that in the last 10 years, I have not worn any dark or black dress and when I got to the venue of the show, my band members were asking me if anything had happened and after the show, I was on my way home when I received a call that the old woman is dead.
Q: At that moment, what came to your mind?
A: Everything went blank.
Q: Who was the lady with her?
A: Her name is Dupe and she has been with her for over 10 years.
Q: What was the last moment you spent with her like?
A: She told me to tie a headgear for her which I did.
Q: What led to that?
A: She told me to get her a cloth from the wardrobe which she wore and later asked me to tie her headgear  and I did just that.
Q: Did you at that point…
A: Honestly, I was sensing that something might happen, but did not know how soon because at times, when I paid her a visit, I always played with her grey hair, but this time around, she told me to tie her headgear. To me, it was another thing entirely, yet, I did not know she was going.
Q: What will you miss about your mother?
A: I will miss her motherly advice, you know that I lost my dad at a very early age and she was the only one for me. She played the role of my father, mother and adviser. She always cracked jokes with me but all that is gone. I call her Maa mi and that is what everybody calls her. I wonder who I will call Maa mi now that she is gone.
Q: What do you think she took away that pains you?
A: One is Mama Sunny as her popular name and other things.
Q: What was growing up with her like?
A: We were not really close until 30 years ago, when she started living with me. But what I learnt from her is her philanthropic nature. Whenever I give her money she will give it to people, in fact, within a twinkle of an eye and each time I questioned her she would say "I can't finish everything." My mother was a philanthropist. I stumbled on a photograph taken by her and M. Ola Kasim.
Q: What role did she play in your music career?
A: M. Ola Kasim is like a son to my mom and some of my kids and his attended the same school. We are family friends.
Q: Did your mother buy you any music instrument?
A: No, in fact, she did not want me to play music. She told me that I am a prince and people should play for me and not me playing for them. I did not know that I was a musician until I came into stardom.
Q: Your mom had one husband, did she love your polygamous life?
A: She never discussed it with me. All what she wanted was my happiness.
Q: Did you ever had cause to quarrel with her on any issue?
A: No, but she always warned me never to quarrel with anybody.
Q: What is that thing you were supposed to do for her and you did not do before she died?
A: I did everything for her but one thing is that she did not move into the house I built for her in Ondo. She was aware of it, but did not want to move there because my grand children convinced her that she would be lonely in the house. They said I was living in the bush.
Q: Did she tell you where she wanted to be laid to rest?
A: No.
Load more