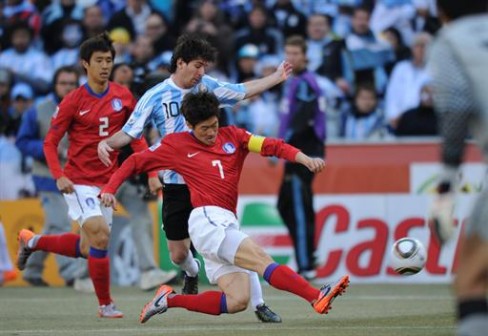 A clash of the continents for the first day of second round action. Asia defies South America as Uruguay face South Korea and then it's Africa against North America with Ghana taking on the USA.
South Korea v Uruguay: Surprise last-16 matchup gives chance for new adventures
South Korea and Uruguay meet on Saturday in a World Cup last 16 clash that few pundits would have predicted at the start of the tournament.
Uruguay made it to the second round as surprise winners of Group A after holding France to a goalless draw, beating hosts South Africa 3-0, and closing with a 1-0 win over Mexico, Ajax striker Luis Suarez getting the all important goal. Diego Forlan is also having an excellent tournament and is a real danger man for the South Americans.
Uruguay won the inaugural World Cup on home soil in 1930 and followed up in 1950.
They crashed out on their last appearance in the competition in 2002 when co-hosts South Korea made it into the semi-finals.
A last four place is again the target coach Huh Jung-Moo has set for his Asian giants in South Africa.
"We have achieved our first objective of reaching the round of 16," Huh, an accomplished changgi (Korean chess) player, said.
"After that, anybody can guess what our next objective might be, but I know that the players will immediately set a higher target.
"They won't be satisfied now with just having progressed. They will want to get to the semi-finals."
USA v Ghana: Both teams dreaming of reaching later stages
Four years after sending the United States crashing out of the World Cup, Ghana's Black Stars again block the Americans' path and are the only African team into the knockout rounds.
Former US President Bill Clinton is among the American supporters who will make his way to this rural farm town of Rustenburg for Saturday's match after watching Landon Donovan score in stoppage time for a 1-0 US victory over Algeria to advance.
"Hands down the biggest moment in my career. That's something I will have embedded in my mind forever," Donovan said. "I'm so proud of our guys. We kept going and we believed. We're alive. We're not done yet.
"My guess is Saturday is going to be a pretty cool occasion for our country."
Ghana's Black Stars, however, are ready to spoil the US show once again.
"From the beginning of the tournament, we were all dreaming to go to the semi-finals and now we have a big chance to do it," said Ghana defender Hans Sarpei, who plays for Germany's Bayer Leverkusen.
"Now anything can happen. We are playing very well. We can beat anybody."
South Korea or Uruguay awaits the US-Ghana winner instead of once-possible powerhouse foes as Germany or Argentina.
Load more