A 13-year old girl Rosemary Chioma Okonkwo of 9, Rotimi Ogunsanya Street, Haruna area in Ikorodu was last Saturday evening kidnapped and raped to death by a yet to be identified rapist, now large.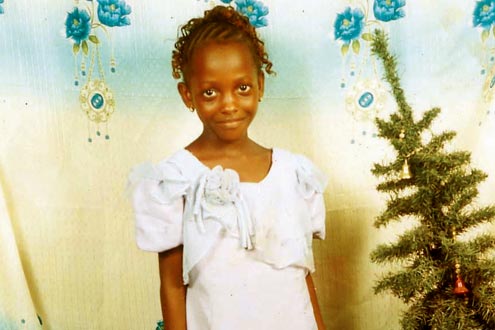 The victim and her immediate younger brother had gone to throw away refuse at a nearby dumpsite when, according to the younger brother, a man accosted them and held Chioma, claiming they were under arrest for throwing waste at a wrong place. The man then said they should follow him to show to them where they should be throwing their waste next time.
At a point, the man asked the boy to go home and tell their parents to bring N60,000 before they could be released. After the boy ran back home, the man took Chioma away to an unknown destination.
The parents and their neighbours searched for the girl throughout the night but all to no avail.
They reported the matter to the police at Owutu police division while the search continued until Sunday morning when the corpse of the girl was found at a bush near Light and Life Church at Agric area in Ikorodu.
According to witnesses, blood gushed out from the girls private part with her tummy swollen and her pant beside her. This made everyone to conclude that she was raped to death.
The police at Owutu were immediately alerted and the corpse was removed and deposited at the Ikorodu General hospital mortuary while police investigation on the incident continues.
When P.M.NEWS visited the bereaved parents of the girl, a team of police men led by the DPO of Owutu police division were there, but they declined to speak to our correspondent on the incident.
The father of the girl, Mr. Paul Okonkwo and mother Mrs. Katerine Okonkwo both from Anambra State, were in sorrowful mood and could not speak about the tragedy that had befallen them. They were surrounded by sympathisers who trooped into their residence.
Chioma, a JSS II student of Fortune M King and Queen Private School in the area was said to be a brilliant and loving girl. She was the first child of her parents. Her other younger siblings are two boys and two girls. At her school, the proprietor and teachers were in sorrowful mood when our correspondent called.
The proprietor, Mr. Edward Mathew described Chioma as a very brilliant, gentle and hard working girl and would be missed by the teachers and students of the school.
—Debo Adejayan
Load more