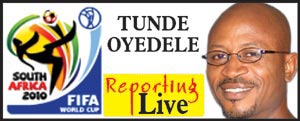 Some 180 Ghanaian fans in Mozinda Camp in South Africa are reportedly stranded.
They are said to be grappling with several challenges including feeding.
This was confirmed by Joy Sports correspondent in South Africa, Ernest Koranteng.
The fans, he said, are itching to return home but have been held back because sponsors of their trip are alleged to have reneged on their responsibilities.
The Sports Ministry also insists they are not responsible for the upkeep of the stranded supporters explaining that the government-sponsored supporters have since left for Ghana after the group games.
Ghana's High Commission in South Africa does not appear to be interested in the plight of the supporters either for the same reasons advanced by the ministry, Ernest Koranteng confirmed. Some of the fans say they are hoping to return home on Tuesday but cannot confirm if their leaders have finalised arrangements.
Load more