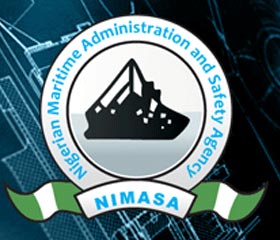 The Nigerian Maritime Administration and Safety Agency (NIMASA) has attempted to douse the growing concern among agitated ship owners over the aborted salvage exercise of beached vessels.
The Agency had awarded a mouth-watering contract for the salvaging and re-floating of the 14 vessels washed ashore near Takwa Bay in Lagos early this year for the sum of $1.7million (about N255million) to Atlantic Marine Services AMS-BP joint venture.
The company only salvaged four of the distressed vessels and left the site after 14 days.
Tongues started to wag that the exercise was a fraud as members of the Indigenous Ship Owners Association (ISAN), especially owners of the grounded vessels, queried the wisdom of spending the collosal amount of money to salvage only four out of the 14 that were washed ashore.
But Ms Ego Nwokocha, the Public Affairs Director of the Agency absolved the management of NIMASA of any complicity in the award of the contract.
In an exclusive chat with P.M.NEWS, Nwokocha disclosed that award of the contract followed due process and that the selected contractor, Atlantic Marine Services, quoted the least amount of money among those who put in bids for the job.
She also explained that people should not be mischievous in their insinuations, adding that the seeming staggering amount of money for the contract was due to the highly technical nature of the exercise and the specialised nature of the equipment used which she said had to be sourced abroad and paid for on used numbers of days, thus explaining why the contract terms were based of number of days and not number of vessels salvaged.
The NIMASA spokesperson further revealed the exercise is an on-going one and  that the agency had already submitted the report of the first exercise to the Ministry of Transport.
Nwokocha allayed the fears of owners whose vessels were yet to be salvaged as the agency was awaiting the approval of the second phase of the exercise.
She, however, lashed out at the impatient ship owners whose ships are still aground and are crying blue murder, to go and rescue the vessels themselves.
"All the beached vessels would be salvaged, but if any of the owners is in a hurry, they can embark on the salvage exercise themselves. After all, we asked them before the exercise if any of them could salvage the ones that belong to them. But because NIMASA has the statutory responsibility to clear the channel of any encumbrance for easy navigation, we have taken it upon ourselves to salvage the beached vessels," Nwokocha declared.
She also disclosed that the agency intended to show a 30-minute documentary on the rescue operation to explain the enormity of the exercise and equally disabuse the minds of critics.

—Esther Komolafe
Load more