The Ginger Your Swagga crooner, Gabriel Oche-Amanyi, popularly known as Terry G, has once again proved that he is arguably Nigeria's most controversial after a camera lens caught him smoking marijuana in his watering hole.
Since Terry G hit the limelight of the Nigerian music industry few years back, he has not hesitated to tell his listeners that he is a staunch smoker of marijuana, a substance he always promotes in his songs.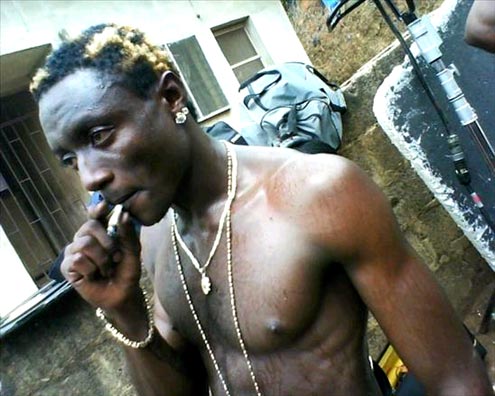 In  his song, Pass Me Your Love, [which he produced and was also featured by AY.Com], Terry G in one of his lines said "…because I dey smoke too much Igbo, e no mean e…"
Also in his smash hit song titled Free Madness, he actually said "…I'm a singer, bring me the ganja…"
P.M NEWS gathered that the Benue State-born singer has also established himself as a controversial artiste, following his face-off with show promoters and colleagues.
Some months back, he was detained at the Lagos State Police Command after collecting N600, 000 from UNIBEN students for a show and he failed to perform at the event.
He later apologised to the students and made a police statement that he will refund the expenses incurred by the show organisers.
Shortly after that, he was accused of stabbing a disc jockey called DJ Vein with a broken bottle at Fagba, Iju-Ajuwon area of Lagos.
Witnesses said the problem started between Terry G and Vein after the latter played Mallam Spicey's song titled Free Cure at a hang-out where Terry G and his friends were relaxing.
In the controversial song, Mallam Spicey had abused Terry G, after the latter had also thrown jibes at him in Free Madness.
Terry G, born of a Deacon and Deaconess parents, was a church boy, and actually started his music career as a gospel artiste, though he could not release his gospel album due to lack of funds then.
—Bayo Adetu
Load more