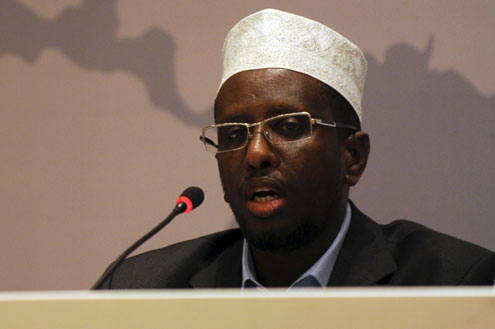 East African heads of state on Monday vowed to urgently deploy 2,000 troops to beef up the African force protecting Somalia's president from advancing Al-Qaeda-inspired insurgents.
The Inter-Governmental Authority on Development (IGAD) made the announcement after an extraordinary summit in Addis Ababa even as rebels closed in on President Sharif Sheikh Ahmed's palace in Mogadishu.
IGAD said the deployment, which would bring the African Union mission in Somalia (AMISOM) to its intended strength of 8,100, could take place by September but did not specify which countries would provide the troops.
"The summit regrets that the approved level of AMISOM troops has not been achieved thus far; and decides to deploy 2,000 peacekeepers under AMISOM to Somalia immediately," the meeting's final statement said.
It also said that it would count on the 53-member African Union to "mobilise the necessary resources, logistics and equipment for the deployment."
IGAD added it was directing "the chiefs of defence staff… to convene an urgent meeting and submit to the AU Commission an action plan" for the deployment.
A rule preventing neighbouring countries from sending troops theoretically leaves Uganda — which contributes half of the current AMISOM deployment — as the only IGAD member state in a position to send soldiers to Somalia.
But a senior IGAD official told reporters after the Addis Ababa meeting that there was nothing stopping other member countries from sending troops.
"The troops will come from IGAD member countries, the heads of states have directed that. The budget will be under that of AMISOM," IGAD executive secretary Mahboub Maalim told reporters.
"There's no prohibition against Ethiopia and kenya sending troops," he said.
Ethiopia arch-foe ended an ill-fated two-year military intervention in Somalia in early 2009 but Prime Minister Meles Zenawi warned then that he would not hesitate to send his troops back in if Islamist insurgents seized power.
Sharif was appointed in January 2009 and seen then by many as Somalia's best chance in years but he has failed to assert his authority and owes his survival largely to the protection of AMISOM's Burundian and Ugandan troops.
The Shebab, whose leaders last year pledged allegiance to Osama bin Laden, have in recent days closed in on the small perimeter still controlled by the government and housing the key institutions of Sharif's administration.
Uganda reacted to IGAD's announcement by saying it was ready to send more troops to Somalia on the condition that AMISOM's mandate is modified.
"Uganda is prepared to put more troops on the ground only if the mandate is changed such that we can go after the Shebab," Deputy Foreign Minister Okello Oryem told AFP.
Uganda, which was the first country to contribute troops to AMISOM in 2007, has repeatedly complained that the force's current mandate was not robust enough to counter the threat of the Shebab and allow the transitional federal government to function.
In an audio message released late Sunday, Shebab leader Mohamed Abdi Godane threatened foreign countries involved in supporting Sharif's administration.
"My message to the people of Uganda and Burundi is that you will be the targets of retaliation for the massacre of women, children and elderly Somalis in Mogadishu by your forces," he said.
Load more