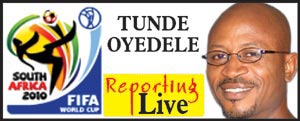 World football governing body, FIFA has commenced an emergency meeting to discuss  Nigeria's situation following President Goodluck Jonathan's reversal of his decision to ban the country from international competitions for two years.
Jonathan, yesterday evening bowed to pressures from both the country and international community, reversing his decision to withdraw the Super Eagles from international competition until 2012.
The president's decision beat yesterday's 6 p.m deadline given by FIFA to Nigeria to either rescind the withdrawal or face expulsion from the body and its programmes.
P.M.Sports gathered that FIFA executive body under President Sepp Blatter fixed a meeting for today in Johannesburg, South Africa, to take an official position on the action of the Nigerian government to heed to the ultimatum of the body.
A source who knows about the meeting told P.M.Sports early today that Nigeria may have avoided FIFA's ban with the action from the government, which was seen by most executives attending the meeting as timely and responsive.
FIFA said in a statement at about 8:43 pm yesterday night that Nigeria met the deadline given to the government to rescind the decision to withdraw the Super Eagles from international competitions.
"The Nigerian government has today (yesterday) confirmed in a letter to FIFA that it revokes its decision to withdraw Nigeria's participation in all FIFA and CAF organised competitions for the next two years.
"In addition, the Nigerian government also recognises the currently elected executive of the Nigerian Football Federation, NFF," FIFA said in the statement.
It was disclosed that the letter from Nigeria was received by FIFA before yesterday's 6 p.m. deadline set last Friday, 2 July, and follows mediation talks between FIFA Executive Committee member, Dr Amos Adamu and the Nigerian government.
"Therefore, the NFF remains vested with all its statutory rights," concluded the statement from the Media Department of FIFA.
The implication of this is that Nigeria would not be banned by FIFA, while the impeachment of NFF President, Alhaji Sani Lulu with the other two members, has been ratified. Also, Aminu Maigari, who was elected last weekend as an interim leader of the body by the Executive Committee, has been given all powers to adjudicate on football affairs in Nigeria henceforth.
Load more