President of world football governing body, FIFA, Joseph Sepp Blatter, who said he is an ardent follower of Nigeria's Super Eagles, has urged the Federal Government to do extra work on the senior national team to prepare them for the 2014 World Cup in Brazil.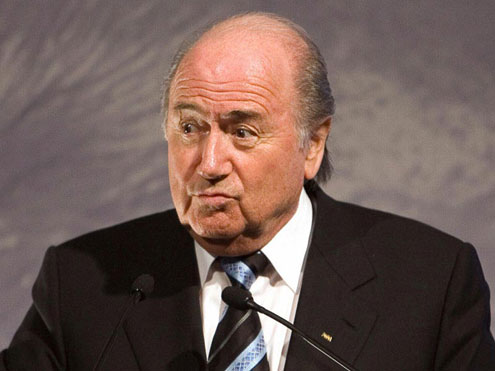 Blatter, who spoke to P.M.Sports before he departed Johannesburg, South Africa, said Nigeria is one of the countries FIFA respected in African football. He added that the Super Eagles are a team that gives FIFA pleasure in terms of good African football flavour and the Nigerian team are a crowd puller any day.
"I personally have been following Nigeria many years ago as a young officer of FIFA. In 1994 World Cup when Dutchman, Clemens Westerhof took them to America to play, the Eagles were a delight to watch. Also in 1995 when Nigeria played against England in an international match. Though Nigeria lost 0-1, it was a great match. In 1996, Nigeria won the Olympic gold by beating Brazil and Argentina. But after that feat, the quality of Nigeria's football teams started dropping.
"I'm not going to comment on tactical and technical issues on the Eagles and other African teams. My advice is that all those involved in the game, like the officials of the Nigeria Football Federation, who I spoke to, must stand up now and start to prepare for the 2014 World Cup. I also spoke to Nigerian Sports Minister and other government officials here in Johannesburg on the need to reshape the Eagles. They should know what to do as professionals. But as administrators, we'll not be happy to see a great team like the Super Eagles falling behind in international football," Blatter said.
—Tunde   Oyedele / Just Back From South Africa
Load more