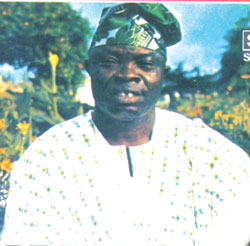 A documentary on the life and times of the late Alhaji Haruna Ishola a.k.a. Baba N' Gani Agba, is about to be released, P.  M. Entertainment can reveal.
The project which was recorded with the assistance of King Sunny Ade and Clement Ige of Distinct Associates, it was gathered, includes the time the popular drummer, the late Ojubanire, was the lead talking drummer to the Apala music icon.
According to the first son of the late musician, Gani Haruna Ishola, the work will be released on Star Records just in time to commemorate the 17th anniversary of his father's death.
Apart from the documentary, Gani said he is now in control of about 40 hit songs of the late Apala musician, which will be released piecemeal before the anniversary.
Some of the numbers, according to him, include Oroki Social Club, Ina ran, Eyin ti n peri wa laida, On my way to London and Adisa Alaago, among others.
Meanwhile, Alhaji Gani has debunked the rumour that he has signed the right of release of the album to a top Lagos marketer, saying "I am still in charge."
Load more