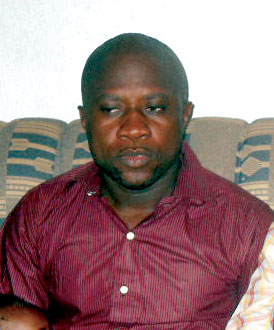 One of the four journalists released on Sunday by kidnappers in Abia State, Mr. Shola Oyeyipo, has narrated how their captors communicated constantly with people suspected to be policemen during their ordeal in the bush.
Oyeyipo, Media Officer to PMAN, revealed how the kidnappers spoke with their informants on police movement in the area and how they were being moved from one part of the bush to another just to evade the law enforcement officers.
"We were told that our movements were being monitored by police informants in the state. We were surprised that policemen who are paid to protect the citizens are now involved in such a criminal act.
"The kidnappers also spoke with people outside the country on the progress made to collect ransom from us. They received instructions from their colleagues abroad on  how they should treat us," he  disclosed.
On how they were abducted, Oyeyipo said a rickety Volvo car suddenly overtook their car between Ipakiri and Obioma junction in Abia State and men carrying sophisticated weapons ordered them to come out.
"We were thoroughly searched by the kidnappers to ensure that we have no weapon on us. Our cellphones, sandals, shoes, laptops and other items, including N2.5 million were collected from us.
"To clear the way for our journey to their hideout in the bush, the kidnappers started firing into the air, not far from a police station.
"On getting to their hideout in the bush, they told us that we have been kidnapped. We were helpless. They gave us food once in a day. The whole thing was agonising. They were threatening us with death. Many times they will tell us to say our last prayers.
"Anytime they asked us to say our last prayers, I was lamenting that I didn't have the chance to talk to my wife before I will die. I would have loved to have a word with her before I die. All these thoughts were going on in my mind. I was weeping inside."
"We were chained like slaves and made to sleep on the ground in the thick forest in the rain and sun. We couldn't brush our teeth for three days. We lost hope of seeing our families because we thought we were going to be killed.
"The fear of death made me to have a flash back on my lifestyle and I decided to confess my sins and surrender my life  to Christ. I was not sure of making heaven, because it is a long time since I stepped into a church.
"I also thought about my abandoned project and my family. I was asking myself what will happen to them. It was a harrowing experience," he said.
"On the day of our release, we were not sure of the thinking of the kidnappers. We were not sure they will leave us alive.
"They took us on motorcycles to a junction around 2.30 a.m. that Sunday and we were told to stand in front of the motorcycles. At that point, we thought they were going to shoot us and run away. Then something miraculous happened. They pointed at the nearest police station and asked us to report ourselves.
"I felt so much joy in my heart that we were eventually going home. It was a terrible experience, full of fear, agony, pains, frustration and the fear of not making heaven.
"In the note the kidnappers dropped with us shortly before releasing us, they appealed to the federal government to create employment for the people and develop the state by providing it with social amenities and infrastructure.
"I thank God that I am alive to tell the story," he concluded.

—Oluremilekun Osobu & Dedeigbo Ayodeji
Load more