Lagos State Governor, Mr. Babatunde Fashola (SAN) Wednesday took an overview of the telecommunications technology advancement in Nigeria expressing happiness that the nation is catching up fast with the world in that sector.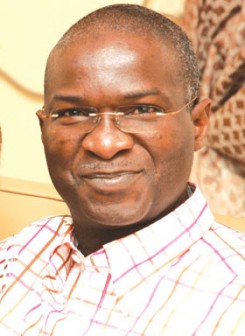 Governor Fashola, who spoke at the Eko Hotel and Suites venue of the launch of Phase 1 of Main One Cable Company's Pan-African submarine cable network solution, noted with pride that Nigeria has linked up with Europe, with Asia and will remain linked up with all parts of the world.
"I am happy today that we are not asking the world to slow down for us. We are catching up with the world. We have linked up with Europe, we have linked up with Asia today and we will remain linked up in this age of globalization," he said.
Welcoming the company to Lagos State, Governor Fashola said his administration made a commitment three years ago that it will exist only for the Private sector to provide the enabling environment in which the operators can thrive and prosper adding that his presence at the launch was symbolic to renew that commitment.
"I believe that the investment that we made three years ago has helped to make Lagos one of the preferred destinations for investment and we are continuously happy to host Main One and other emerging business ventures who seek to settle and make our State the preferred business port of destination", the Governor said.
According to the Governor, "This is the most critical infrastructure that will help us as a Government to improve on our service delivery capacity; it will help us manage traffic better, it will help us police the State better, it will help us deepen access to education for our people, it will help us provide healthcare service delivery better", adding that Government is already "taking huge steps towards telemedicine. This is the missing link".
Governor Fashola, however, said the arrival of Main One Cable Company to the State was not "the future", adding, "The arrival of Main One is yesterday; it is history. The future lies in what we do with Main One".
"The future lies in how many homes we can get broad band into at the shortest possible time and this is where our Government, as regulator, will work with all the telecom operators and service providers to make the Right-of-Way easy to administer and implement", Governor Fashola said adding, however, that Private sector operators and Telecom Service providers must sign on to the partnership in order for it to work to the satisfaction of all stakeholders.
Recalling that many years ago Government suggested that it could co-locate some of the telecom infrastructure high marks in the State, Governor Fashola said the economy of scale has made that a reality today adding that Government can today share Right-of-Way with telecom operators.
"We have continuously provided information in the public domain that if you have need to access any of our roads, let us know in advance what your plans are so that we can adjust our road construction plans to suit what you are doing", the Governor said pointing out that it is no use installing one infrastructure and only to damage another.
Describing the launch as "a signal for a wonderful future ahead of all of us", Governor Fashola declared, "I believe there is a way that we can partner and work together to ensure that we get a win-win situation".
In his remarks earlier, the Governor of Cross River State, Mr. Liyel Imoke, said the launch of a submarine cable that provides open access wholesale broad band capacity "will transform the way we think in carrying out our daily activities".
According to him, "Main One, which is the first submarine cable company offering such product in West Africa and the first private submarine cable company with landing license in Nigeria and Ghana, "will provide a bouquet of services extending beyond the standard capacity offers between our launching point in West Africa and Telehouse in London by enhancing a great relationship within one another".
Load more