There was a mild drama today at Afe Babalola Bar Centre, Iyagangu, Ibadan, Oyo State, following an electric spark during Nigeria Bar Association, (NBA) press briefing ahead of the national delegates conference scheduled to hold between Wednesday 28 to July 30, 2010.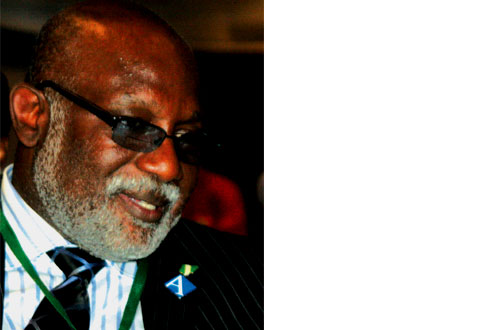 The spark immediately resulted in fire which engulfed the conference room.
The spark, which occurred while NBA President, Chief Oluwarotimi Akeredolu, was answering questions from the journalists, brought the conference to an end as newsmen and legal practitioners scampered out of the centre to save their lives.
Also, the NBA boss and the Ibadan branch executives of NBA moved out of the hall immediately and called men of the Oyo State Fire Service.
As attempts were made to put out the fire, men of the fire brigade numbering about 10 in the company of at least seven policemen with fire vehicle numbered 0Y 175 A09 arrived at the scene.
However, the fire did not cause much damage as it was eventually put out.
Earlier, while addressing the press, NBA Chairman, Ibadan Branch, Mr. Luqman Laoye, stated that the most eventful day of the delegates' conference is Thursday July 29 when voting will take place to elect new national officers of the bar.
According to him, in the past it was during the bar annual conference that election used to hold but it was discovered that electioneering usually took the better part of such conference while other issues were relegated to the background.
He pointed out that annual conference would hold between 22 August to 27 August 2010 in Kaduna where the outgoing executive would hand over to the new officers.
He further stated, "Ibadan branch of the NBA has put in place everything humanly possible to make the first delegates' conference a memorable one for all and sundry."
Laoye also noted that there could be a gentlemen agreement as regards zoning the presidency to the six geo-political regions of the country, meaning that the election would not favour any candidate from the South-West Region who produced the outgoing president but assured that everyone would be given the opportunity to test his or her popularity.
On the N72 billion requested by the Independent National Electoral Commission (INEC) Chairman, Atahiru Jega to update voters' register, Akeredolu asked the presidency to release the money but cautioned that the release of the money should follow due process.
According to him, "nothing is too much to spend to organise credible elections in Nigeria. We should spend as much as we need to organise a credible election than spending N10 billion on celebration of Nigeria at 50. But what INEC needs the money for should be itemized."
—Gbenro Adesina/Ibadan
Load more