Protesting ex-militants on Monday, 26th July 27, 2010 stormed Governor Liyel Imoke's  office in Calabar, the Cross River State capital, South-South Nigeria, to protest the non payment of their two months salary arrears.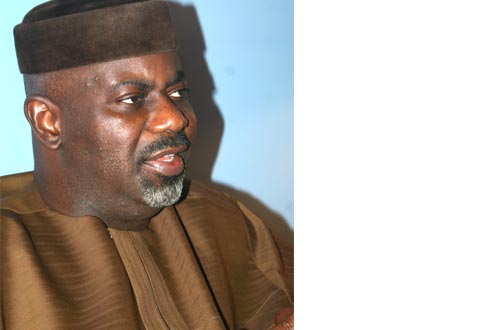 Their arrival  prompted  security operatives at the Governor's Office to cordon off the complex.
The ex-militants came fresh from the two-weeks rehabilitation training at Obubra, Cross River State.
Comprising predominantly members of the disbanded Bakassi Freedom Fighters, the protesters  were at the seat of power to also express their displeasure over the non-release of the N1 million allowance approved for them by the Cross River State government. This amount is for only former miltants of Cross River State origin.
The presence of the erstwhile warlords at the Governor's Office made the combined team of policemen and Nigerian Security and Civil Defence Corps [NSCDC] to shut the main entrance to the office, thus keeping away all visitors.
This caused a scene at the gate as guests who were already inside were prevented from going out.
It took the most senior police officer at the gate a hectic time to convince them to leave as the repentant militants insisted on seeing the governor himself to inform him about their plight since the finished their training 12 days ago.
The police officer took them opposite the office to listen to their grievances.
The Special Adviser to the Cross River State government on security, Mr. Bassey Okim, met with the militants on behalf of Imoke and  was told by the leader of the protesting team, Livinus Awudu, that they were at the office to complain about non-payment of their two months salary.
Each militant receives  N65,000 monthly allowance from the government.
They were also there to find out when they will commence vocational training as promised by the government.
To them, after this rehabiltation programme, they should without delay start training on skills acquisition which they can fall back on since that is the only way they can keep themselves busy and become useful to the society.
Apart from this, Awudu said one army officer with the 13 Amphibious Brigade simply identified as Bello was sitting on the N1m approved for them by Imoke.
He claimed that each time they demanded  for the money, Bello told them to be patient as payment was being processed.
"How long will it take Bello to pay us? We know ourselves. We are 400 from Cross River State and he has our names and the necessary documentation about us. What again does he want? We have been in Calabar since returning from the training at Obubra to receive this N1 million. Let Imoke call him to order," he said.
According to him, they have exhausted the out-of-pocket expenses they got at the rehabilitation camp and were now facing hard times in Calabar.
He revealed that last Sunday, all they had on them got finished and they had not eaten since then.
Another ex-militant who also made the protest march to the Governor's Office, Lucky Bonus, told Mr. Okim that if nothing positive is done about their plight, they will have no alternative than to return to the creeks in Bakassi peninsula to fend for themselves as some persons were out to feed fat on them.
"Look at me, I have a wife and three children. How do I take care of them? Do they want me to go and steal? We have embraced this amnesty but some persons are just using us to make money for themselves. President Goodluck Jonathan is not aware of what we are going through at the rehabilitation camp. He should call Timi Alaibe to order.
"We have no problem with Mr. Okim. He has been so caring so far. The problem we have is with those from Abuja who do not care about us. If the Federal Government does not wade in, this amnesty will succeed only on paper. How come they are owing us two months salary? Some persons somewhere are using us to make money for themselves," he added.
Following the pestering, Mr. Okim pacified  them with N10,000, and asked them not to take the  laws into their own hands as he was going to Abuja this week for a meeting with Mr. Alaibe and will table their complaints before him and the government.
He added that having successfully completed the two weeks rehabilitation programme, government cannot disappoint them now. He said the vocational training will commence soon.
In the presence of the Bakassi Freedom Fighters, Mr. Okim called Bello on phone to reveal their anger whereupon Bello asked  them to meet him in his office for discussion.
Okim had midway into his conversation with Bello, handed over his cell phone to Awudu to discuss with Bello. Once through with Okim, they left to meet Bello as directed by him.
Meanwhile the second batch of ex-militants have commenced rehabilitation training in Obubra. This batch is a mixture of male and female ex-militants.
The training was suspended for over a week for the construction of a concrete block perimeter fence round the NYSC permanent orientation camp now being used to conscientise the former creek boys ahead of skills acquisition training.

— Emma Una/ Calabar
Load more