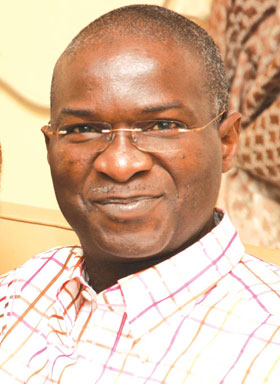 A non-governmental organisation, Lovers of Raji Fashola Forum Foundation, has declared that Governor Babatunde Fashola of Lagos State will win next year's governorship election in the state easily.
Chairman of LORAF, Bishop Abiodun Alani Olugbenro, who declared this at a conference, said Fashola has met the expectations of Lagosians and would be massively supported by the people.
"I strongly believe in Babatunde Fashola. He is a man of honour, integrity and intelligence. Above all, he is dedicated. He enjoys the support of primary and secondary school students and he knows and values human lives," he stated.
Bishop Olugbenro stated further, "Babatunde Fashola has dedicated his whole life and time to Lagos State. He has provided for the needy, reduce transport problems that has being a major headache to Lagosians with the introduction of BRT buses."
The cleric explained that he set up LORAF Foundation to propagate the works of Fashola. "We love him, his government and every good and great things he is doing in Lagos State without relenting since he assumed office in 2007," he added.
Also speaking at the conference, the state secretary of LORAF, Ade Adeniji Esq, said: "We are happy that Fashola has been able to bring smiles to the faces of Lagosians. We believe in him.
"LORAF consists of politicians, democrats, contractors, lawyers, professionals, NURTW members, lecturers and housewives. We are all supporting Fashola because of what he has done in Lagos."
Dignitaries present at the occasion included Chairman, Kosofe LCDA, Joseph Olorunfunmi, state women director, LORAF, Alhaja Folashade Olunloyo, coordinator West Senatorial (LORAF), Mrs. Funmilayo Adejuwon, Chairperson, Ikosi Isheri, Alhaja Ayilara,among others.
—Sontan Yewande
Load more