Olusosun landfill popularly called dumpsite, Ojota, Lagos, Nigeria, is to become a recreational park in the nearest future.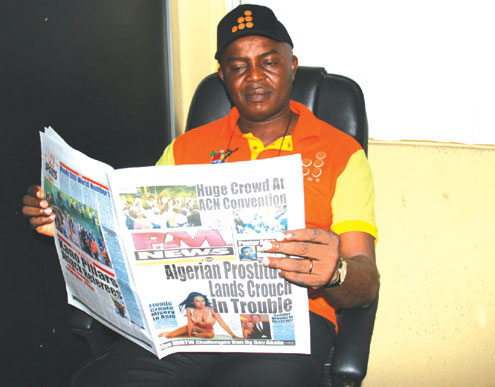 Mr. Ola Oresanya, Managing Director, Lagos Waste Management Authority, (LAWMA), stated this during a courtesy visit he and other members of the management of the agency paid on  the corporate head office of Independent Communications Network Limited (ICNL), publishers of TheNEWS magazine and P.M.NEWS at Ogba, Lagos, on Monday.
Oresanya stated that with the imminent provision of recycling barns at some designated areas in Lagos, the future of Olusosun site, is to become a place where people could play golf as well as to serve as recreational parks.
"Olusosun is turning green; most of our landfill are going to look like golf course. We are going to make them beautiful, they are going to become beautiful landscape in the city, and that is exactly what Olusosun is now.
"Olusosun is now looking so green, and we take Olusosun to set the standard and let people see that this is where we are going.
"The landfills are also going to be beautiful recreational parks soon," Oresanya added.
On the fate of scavengers at the dumpsite, who were allegedly sent away from the site after  BBC's report on Lagos State recently, the LAWMA boss stated that the scavengers were not sent out of the site but the agency only regulated their stay and movement, as a way of  ensuring they no longer sleep there.
He added that the scavengers are always at the site in the morning and they all leave by 6.00 p.m., every day.
The LAWMA boss also stated that the agency is working towards generating electricity from the waste, adding that the agency is equally working towards creating jobs for the unemployed by engaging them to source for disposed water plastic containers and nylons.
Oresanya, however, called on those residing in slum areas of the state to ensure that they always keep their environment clean, as such would save them from being infected with diseases.
He said, the agency has introduced waste managing tricycles in the slum areas, to ensure their cleanliness.
He further called on residents of the state not to hesitate to report any PSP operator that are performing their duty as expected and those that were issued with outrageous bills by calling some of the numbers published by the agency. Oresanya also revealed that LAWMA's plant in Ikorodu produces 250 bags of fertiliser daily and that demand is greater than supply, hence LAWMA plans to increase daily production capacity to 500 bags.
Other management teams that were on entourage with the managing director include Captain Lawrence Fatokun –Consultant, Maintenance Services; Sunday Osilata, Auditor; Mrs Yemisi Ogunlola-Assistant Director Legal; Mrs. Bimbola Jijho- Ogun, Assistant General Manager (Commercial )and Mr. Ademuyiwa Adu, of Public Relations Unit.
—Paul Dada, Paul sanusi & remilekun Osobu
Load more