The camp of Adopt-A-Talent Sports Programme is bubbling with the athletes sweating it out at their training camp at the University of Lagos (UNILAG) and Myohoung Barracks, Somolu, Lagos, Nigeria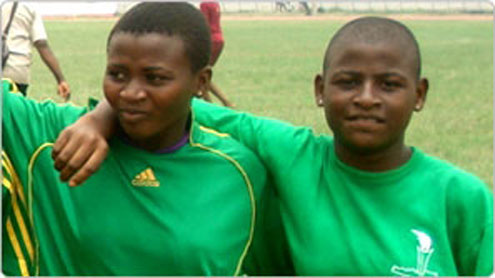 The athletes, who have since Monday swung into action at their designated centres, are having two training sessions: 8.00 a.m. – 10.00 a.m. and 4.00 p.m. – 6.00 p.m.
The 109 athletes were enthusiastically adapting to their new ways of life as most of them have never been camped for any sporting events before.
According to the Media Offcier of the programme, the athletes huffed and puffed, and with admirable sense of assimilation, they listened to the masterly  instructions dished out by their coaches and instructors.
The eight pugilists, four boys and four girls in the squad, were held spellbound when Coach Joe Mensah took them to seemingly unknown world of boxing tactics at the Nigerian Army Sports Camp at Myohoung Barracks for more than 70 minutes under good weather.
In athletics, at University of Lagos (UNILAG), Coach Tony Urhobo was at his usual best stretching, his wards to the limits with endurance exercise during their morning session.
The "Ping-Pongers", under the supervision of Coach Wole Orukotan learnt new tricks about the game of Table Tennis in their two session a day workouts.
Coach Ganiyu Otenigbagbe, former Nigeria international in Basketball, brought his international experience to bear on his wards as he took them to strenuous morning exercise, while Coach Tajudeen Disu and his assistant, Jide Oguntuase were sweating out with their large football lads during their training at UNILAG football pitch. The Volleyball training session was perfectly coordinated by former International Suraj Onatuga.
Meanwhile, Prince Wale Oladunjoye, Senior Special Assistant on Grassroots Sports Development to Governor Babatunde Raji Fashola, initiator of the programme has enjoined the 109 athletes picked for the final screening in the Adopt-A-Talents Sports Programme to comport and listen to the instructions of their coaches.
"You are on the verge of breaking a new ground in your career with this programme and as such you must try to be your brothers' keeper.
"The friendship you are making from playing together, eating together and interacting together may lay a solid foundation for a long-life relationship, something that can linger in your memory for as long as you live," he said.
The athletes had been accredited on Sunday, 8 August, 2010 at the Teslim Balogun Stadium, prior to their departure to Myohoung Barracks, Nigerian Army Sports Camp at Shomolu.
Load more