Former Vice President Alhaji Atiku Abubakar whose membership of the People's Democratic Party, PDP, was considered not valid, has insisted that he is a member of the party.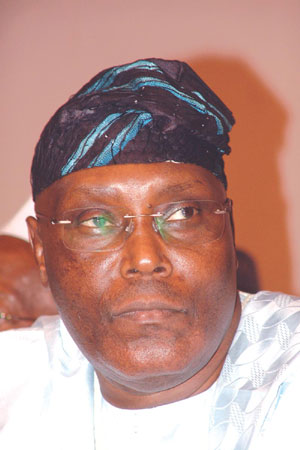 He made this known to editors yesterday at the Kano Hall of Transcorp Hilton Hotel, Abuja, the capital of Nigeria.
The constitution of the PDP, according to Atiku, provides how you become a member.
"Your ward is where the membership resides, not at the local or state level," he said.
He added that the PDP constitution states that you could register where you reside, where you have business or where you were born.
Atiku said that when he decamped from Action Congress, AC, now Action Congress of Nigeria, ACN, he went straight to his ward in Adamawa to register.
"I was given a slip, later a membership card," he said.
However, Governor of Adamawa State, Murtala Nyako, according to Atiku, claimed that he registered with a wrong faction of the PDP.
Nyako, according to Atiku, threatened the party officials at Jada, Atiku's ward.
"Legally, constitutionally, Nyako has nothing to say," Atiku insisted, adding "my membership of PDP is legal, valid, whether Nyako likes it or not."
Load more