Local players have continued to lament the dearth of championships in Nigeria and they have called on the authorities to urgently address the situation.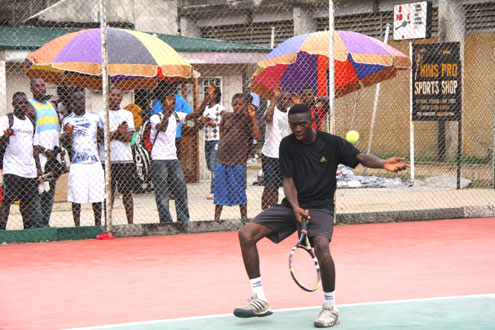 At the beginning of this year, Nigeria Tennis Federation, NTF, released its programme of activities with series of events for the year, which include a lot of local and international competitions. But as 2010 enters its third quarter, the major stakeholders in Nigerian tennis, who are the players, are disappointed with the lull in the local scene.
Except for the 3rd New Era Wheelchair Tennis Championship sponsored by Chief (Mrs.) Oluremi Tinubu  in March, followed by the Port Harcourt Championship and the recently organised CBN Open, most of the competitions lined up for the first and second quarters of the year were only listed on paper, not organised.
A visit to the National Stadium, Surulere, Lagos revealed the pains the local players are going through with most of them train without any competition to  showcase their talents.
For fear of victimisation from the officials of the NTF, some of them who complained to Tennis Special begged for anonymity.
One of the players, a male national star, who featured at the CBN Open, said the situation is pathetic as players train without participating in any competitions. He noted that if the federation organises monthly championships, it will enable the players to keep themselves busy.
"It's a pity that we found ourselves in this  situation. The lull is seriously affecting most of us that aspire to become great in the sport. It is only CBN Open that I can see as the national tournament that we have in Nigeria today, all other events are just the imagination of the officials of the federation. I think it is time a solution was found to the problem we are facing," he said.
One of the International Tennis Federation, ITF, graded coaches, corroborated the player's comment, saying that the federation should be blamed for the lull.
He said he has stopped talking to the press on Nigerian tennis because of the attack from the officials.
"We have been talking about the dearth of tournaments for a very long time and nothing has been done to address it. If we talk, the officials would say we want to bring them down. These players need to play tourneys regularly for them not to be match rusty. The way tennis is being administered here in Nigeria is not the best," said the coach, who is planning to go to South Africa to attend an ITF workshop any time from now.
Load more