Gospel singer, Oluranti Abodunde a.k.a. Chris Abod, escaped death by the whiskers recently, when he was involved in an auto crash on Ilesha-Ife road.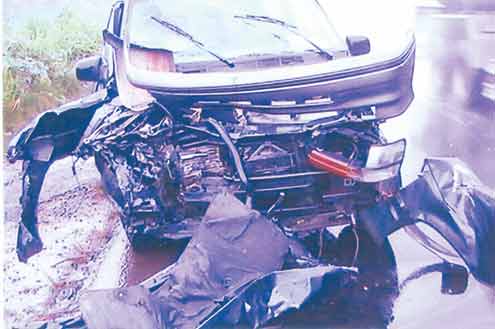 P.M. Entertainment learnt that the gospel act was travelling to Ogbagi, Akoko, for the one year remembrance of his late father, Pa Lawrence Alonge 2010 when the incident occurred.
Investigations revealed that Abod's Chrysler space bus veered off the road into the bush   after hitting a stationary trailer due to rainfall and diesel that littered the road.
Abod, who was later rescued by officials of the Federal Road Safety Commission after spending about three hours in the wreckage, told P.M. Entertainment that his escape was miraculous.
"Thank God, I am alive. When the vehicle lost control I gave up all hope but prayed to God to take care of my family, thinking that was the end. In fact, I saw death coming," he told P.M. Entertainment.
The gospel singer, who only had a minor bruise on the head and foot, however, lost the car as it was damaged beyond repairs.
A member of staff of Power Holding Company of Nigeria (PHCN) Plc, he is currently working on the video of his album  titled Blood of Jesus, which he said, will be released soon.
Load more