Dr. Robin Renee Sanders, United States Ambassador to Nigeria, was given a special send forth get-together recently.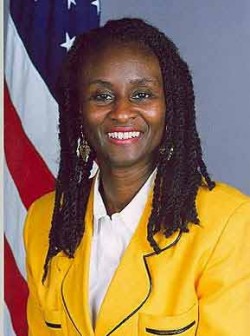 The event, which witnessed a classical African/Nigerian arts, music and exhibition, was held at Nike Art Gallery, Lekki, Lagos.
The occasion organized by Ambassador Sanders' friends in the art circle, was anchored by Nike Okundaye, a renowned artist and the proprietress of the gallery.
The event featured Ara and her group who performed alongside other various ethnic cultural groups in Nigeria and was attend by a large number of diplomats and captains of industry who came to honour the woman that who improved the diplomatic relationship between the United States and Nigeria.
The event also showcased live paintings, art exhibitions of ceramics, paintings, sculpture, textiles and music.
Folarin Ayegbusi, the CEO, Aladire Centre, Jibowu, Yaba, whose works adorned the hall, floor and walls of the venue, while giving the vote of thanks, lauded Ms Sanders for embracing Nigeria and her arts during her time in Nigeria.
He also appealed to her  to remain ambassador of Nigerian art and culture.
Ms Sanders came to Nigeria in December, 2007, having worked in other African countries like the Republic of Congo as U.S ambassador in 2002 to 2005.
During Sanders' time in Nigeria, precisely between 2007 and 2009 alone, she facilitated U.SÂ  grants to over 14 Nigerian communities.
Load more