The air space at Murtala Muhammed International Airport, MMIA, and the local airport in Ikeja, Lagos, South West Nigeria, was shut this morning for some hours ahead of  President Goodluck Jonathan's visit to Lagos.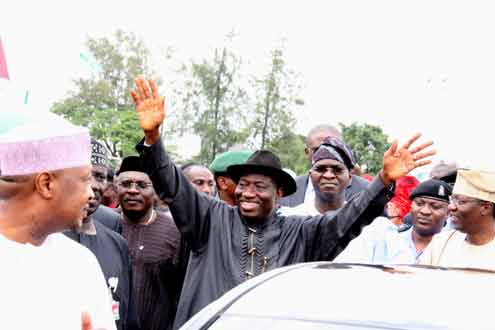 Some aircraft with hundreds of passengers on board had to hover around the airport until the Presidential jet carrying Jonathan and his aides touched down at about 10.20 a.m.
Local travellers were enraged as they waited for long at terminal buildings to board planes. When the president is to land at any airport in the country, he is given priority and other airborne planes are made to wait until the presidential plane lands safely.
It is known in security circle as the presidential movement. The air traffic controllers are replaced by the airforce until the predidential plane lands.
Meanwhile, thousands of supporters of the People's Democratic Party, PDP, this morning stormed the presidential wing of the Murtala Muhammed International Airport (MMIA) in Lagos, South West Nigeria, to welcome President Jonathan on his first official visit to the state.
Some of the PDP supporters, however, exchanged blows over umbrela gifts that were shared to them by their leaders at the airport.
The president arrived Lagos airport at about 10.20 a.m. on board the presidential jet along with some of his aides and was received by Governor Babatunde Fashola of Lagos.
Though Jonathan is yet to unveil his presidential ambitions for the 2011 election, the scene at the airport this morning was akin to a polical rally as PDP supporters trooped out in large numbers to welcome him.
As the President was getting off his plane, he stopped and waved to his supporters. He then went round the lounge facing the cameras and waving at his supporters. The applause that greeted his gesture was deafening.
PDP stalwarts who were at the airport to receive the president were, Ogun State Governor Gbenga Daniel, Nigeria Ambassador to Ghana and former PDP governorship candidate, Musiliu Obanikoro, Roli Adeniyi, wife of the jailed PDP henchman, Bode George, former Minister of Aviation, Babatunde Omotoba, Minister of Finance, Olusegun Aganga.
Thousands of PDP supporters waved their party's green red and white flags and umbrellas and sang welcome 'Jonathan Baba'.
Some PDP supporters were prevented from entering the inner area of the presidential lounge by a myriads of policemen at the gate.
Security was tight at the lounge with the State Police Commissioner Marvel Apoyigbo calming enraged PDP supporters down. Operatives of the State Security Service, the airport police Command, LASTMA and officials of other agencies were on duty.
The arrival of Jonathan caused traffic jam around the airport. Many people trekked for a long distanc.
Jonathan is in Lagos to unveil his roadmap on the   power sector.
—Simon Ateba
Load more