A governor from the ruling Peoples Democratic Party, PDP, in the North-Western part of Nigeria has promised Gen. Ibrahim Badamasi Babangida (retd), hell in his quest to contest next year's presidential election.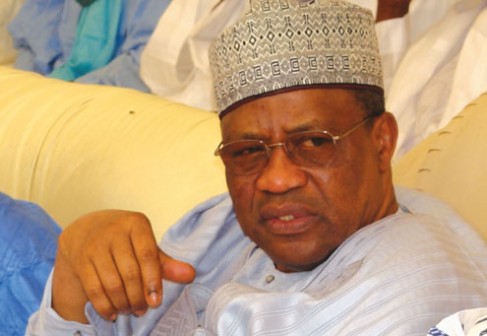 The governor who spoke to P.M.NEWS today on condition of anonymity said the claim that IBB is making inroads in the north, especially with governors, is false, adding that the former military dictator was just wasting his time because he stands no chance of winning.
According to him, most of the governors are not on IBB's side and those who claim to be supporting him are just deceiving him. The governor, who is said to be loyal to former president, Olusegun Obasanjo, said most PDP governors have vowed to vote against IBB during the impending PDP presidential primaries.
Even when some northern governors think IBB does not deserve to return to power, a group, the Arewa Progressive Union, APU,  described both Atiku and Babangida as 'expired leaders' and vowed to organise protests in all the 19 states in the North against them.
After a meeting in Kaduna, APU said: "The Arewa Progressive Union has watched with keen interest political developments in the country within the past few weeks and hereby urges the entire good people of the North and indeed all Nigerians to ignore the laughable desire of Gen. Ibrahim Babangida, Major-Gen. Muhammadu Buhari and former Vice-President Atiku Abubakar to contest the 2011 presidential election. The North today is the most backward section of Nigeria with destitution, crass poverty, illiteracy, hunger and disease on rampage everywhere, destroying the people on daily basis. We find it amazing that these northern grandfathers do not find it worthwhile to prepare the younger generation of northerners to succeed them; instead they want to cling onto power forever and this goes to expose their high level of self-centredness. The Arewa Progressive Union will not fold its arms and watch these people destroy the North. We have resolved to organise protest matches simultaneously in all the northern state capitals, as part of measures to sensitise our people that they should not be deceived again.''
Babangida's main game plan is to win over state governors who wield considerable influence in the party. Indeed, the emergence of a PDP presidential candidate will be determined largely by the governors. For this reason, he is said to be doing his utmost to woo them to his side. But the ambition of some of the northern governors like Bukola Saraki of Kwara, Danjuma Goje of Gombe, etc. may scuttle IBB's hope.
Babangida is said to be targeting first term PDP governors who will be seeking re-election, warning them that if they support a candidate from the south they could be rejected by the northern masses. President Goodluck Jonathan's camp is also wooing as many governors as possible, even as one of the group's game plans is to prop up a northern presidential aspirant to split northern votes during the PDP presidential primaries to the detriment of IBB.
Some governors have openly declared their support for Jonathan. One of them is Alao-Akala of Oyo State. He demonstrated this recently when IBB was to flag off his presidential campaign in Ibadan, the state capital. Sources said Akala pulled all the strings to make it a non-event. IBB stayed away when university students threatened to stone him if he came to Ibadan.
The fact that the rally flopped was a clear demonstration of Akala's loyalty to Jonathan.
However, Jonathan too may not find it easy, as some governors are not happy with him for allowing some portions of the 2010 Electoral Act which have whittled down their powers to sail through. In the newly amended act, unelected officials in government like ministers and state commissioners are not eligible to vote at party conventions.
What this means is that Jonathan's aides as well as those of the governors cannot vote at the party's convention where the presidential candidate will be picked.The aggrieved governors believe Jonathan was too weak to have assented to that provision in the Electoral Act which is detrimental even to his own ambition.
Some of the governors are also not happy with Jonathan because he did not carry them along when he chose Namadi Sambo as Vice President and also appointed Prof. Attahiru Jega as chairman of Independent National Electoral Commission, INEC.
These grievances coupled with the controversial zoning arrangement are some of the reasons some northern governors are not openly supporting the president. However, Mohammed Abba Aji, the Senior Special Assistant to President Jonathan on National Assembly Matters, said governors will back Jonathan all the way.
Aji who also coordinates a group known as Friends of Democracy which has been canvassing support for Jonathan's 2011 ambition, claimed most of the PDP governors are now in support of giving the presidential ticket of the party in the 2011 polls to the President.
He spoke to reporters after the group opened its campaign office in Abuja last Tuesday.
According to him, the President, who is yet to declare his ambition, is sure of getting the support of governors.  Aji told journalists that since President Jonathan inherited the political fortunes of the late Umaru Yar'Adua, he was not only qualified but "most qualified" to run for the presidency.
"We have no fear at all, we know that our governors will support the President in due course. Many of them are doing that already," he said, while emphasising that the President will not be intimidated into bowing out of the contest for the PDP presidential ticket.
"The President will certainly run and he will declare his interest after the Ramadan. He is fasting along with us. But as soon as the Ramadan is over, he will declare for the Presidency. We will take a convenient date after the Sallah and you will be duly notified. Don't believe those who are saying the President won't run. The President will run," he affirmed.

—Ada Owojela
Load more