When she started football some years ago, the former Falconets player, Blessing Akusobi,  thought that someday, she would not only represent Nigeria in FIFA organised female  competitions but to become a world star.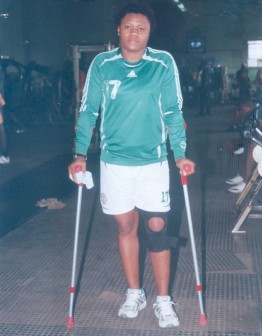 Her prayer was somehow answered when she was selected for the FIFA U-20 Women World Cup held  in Russia in 2006. The reliable defender was  a delight to watch during the tournament  before she suffered a ligament injury in Nigeria's match against Brazil in the quarter  final, which the Falcons lost 2-3.
The Former Bayelsa Queen defender gave her best to her fatherland, but was abandoned to her  fate when she finds it difficult to play football at least for now.
Akusobi, who also played for Delta Queens, told P.M.Sports that she tried her best to ensure  the injury heals but her efforts were in vain.
" Although the officials of Nigeria Football Association, NFA then tried their best by  taking me to Germany for an operation, but immediately I came back to Nigeria, I began to  feel more pains on my leg  to an extent that I could not continue my football career," said  Akusobi, who needs the sum of N500,000 for another operation.
Akusobi, who is not happy with the way  she was abandoned by the  FA, however appealed to  the Governor of Lagos State, Babatunde Raji Fashola to come to her aid, adding that her  dream would be thwarted if she does not play the round leather game again.
"I went to the University of Ibadan Teaching Hospital, UCH recently where I met Dr Alonge.  He told me that I need the sum of N500, 000 for an operation if I want to play football  again. When I came back to discuss with the officials of NFF, they keep promising me, but  nothing has happened.
"I am fed up now, I would be happy if the Lagos State Government can help me because I   represented the state at the  Abuja 2004 National Sport Festival, where I won a bronze medal  in the female football event," she said.
Akusobi, who is still in pains, said only the University of Ibadan Teaching Hospital in  Nigeria can successfully operate the ligament injury.
"It is only the University of Ibadan Teaching Hospital that can do the operation  successfully except I want to travel abroad. I  spent a lot of money when it started but  today I manage to feed myself let alone help my young ones in the family," said Akusobi, who  was in tears while narrating her ordeal to P.M.Sports
She said it is her prayers to come back and play for the country again, if only she could do  the operation in good time.
"I wish to come back if I can successfully operate this leg. I used to train with young  players at the stadium who always praise me for my performance. It is my prayers to come  back and play for the country once again," she said
On the performance of the Flamingoes against DPR Korea in their first match in the ongoing  FIFA U-17 Women Cup in Trinidad & Tobago, Akusobi said the team were determined to win,  noting that if they can continue that way, the sky would be the starting point for them.
—Sunday Akintoye
Load more