With Nigeria's Flamingoes securing their place in the quarter final of the ongoing FIFA U-17  Women's World Cup, one of the players, Francisca Ordega, sees the team playing in the final.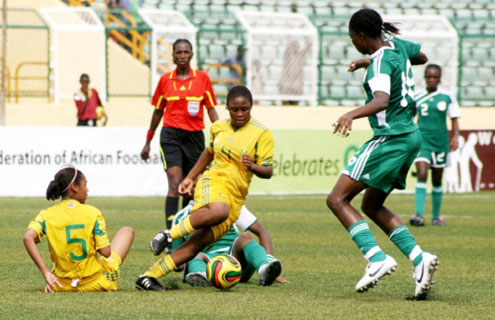 Ordega told FIFA.com that she prefers the Flamingoes  to meet the German team in the final.
"I hope we can go as far as possible in the competition and make the people of Nigeria proud  of us. We're a disciplined and tightly knit team that's good on the ball and we've  definitely got what it takes to succeed."
"It would be perfect to meet Germany in the final," she adds, going on to explain the  reasons behind her preferred choice of opponent. "They beat our big sisters in the U-20  final and they beat us 5-2 in a warm-up match for this World Cup. It would be good to set  the record straight."
It was only a few weeks ago that Nigeria's Falconets surprised everyone by taking their  place in the final of the FIFA U-20 Women's World Cup Germany 2010. Picking up where their  elders left off, the country's high-flying Flamingoes are charting a similar course at  the  U-17 Women's World Cup by winning their opening two matches in Group A to soar into the last  eight.
Starting out with a 3-2 victory over title holders Korea DPR, the young Nigerians followed  up with a 2-1 defeat of the tournament hosts, scorelines that barely reflected their  domination of both games. Adopting a 4-3-3 formation, the powerful yet cultured Africans  have been in scintillating form in the Caribbean, with the likes of Ngozi Okobi, Halimatu  Ayinde, Loveth Ayila and speedy forward Francisca Ordega, the scorer of two goals to date,  all impressing.
"We are the favourites. To my mind we are the best team there is. It's wonderful to be  here," said  the Bayelsa Queens forward, clearly enjoying the experience.
"To be taking part in this World Cup is a fantastic opportunity and I'll never forget  everything that's happening to me here."
Load more