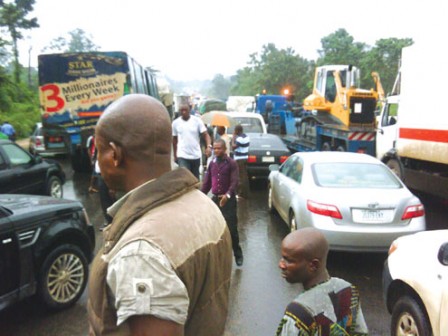 Travellers were trapped in the rain for several hours last weekend on the failed portions of  Benin-Ore road.
Users of the road usually face nightmarish experience following the failure of the Federal  Government to fix it. It gets worse during the rainy season.
Motorists and travellers who were heading to their various states in the east got stuck on  the highway last Thursday and Friday when desperate interstate bus drivers who drove against  traffic to avoid the bad spots blocked one another on both sides of the busy highway.
A traveller, who gave his name simply as Agbor, regretted travelling by road, adding that he  would have travelled by air from Lagos to Calabar, and taken a bus from there to his home  town in Ogoja, Cross River State.
Other travellers expressed similar regret and wondered why Nigerians should be subjected to  such harrowing experience by their leaders.
Some of those trapped said the latest situation was a child's play compared to what they  experience during the Christmas rush in December whereby they spend 24 hours or more on the  spots.
Load more