The police in Lagos have arrested the son of a landlady for amputating a tenant's hand following a quarrel over the payment of  Power Holding Company of Nigeria, PHCN, bill.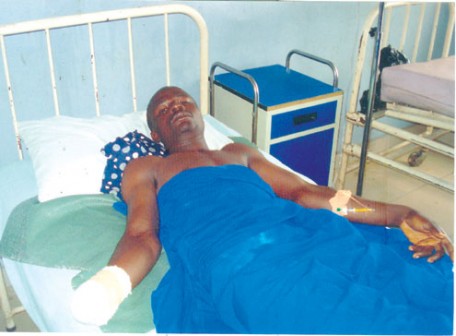 The suspect, Afiz, resides at 10, Olayinka Street, Aboru near Iyana Ipaja, Lagos, Nigeria. He lives with his mother who interited the house from her late father.
The victim, Adekoya Arowosegbe, 32, was rushed to a private hospital where the amputated hand is being treated.
Speaking on his hospital bed, Arowesegbe said, "on Thursday last week, while I was inside my house around 10.30 p.m., I noticed that the electricity supply was fluctuating and as I ran out, I saw Afiz trying to disconnect the cable because a tenant who owns a container in the house refused to pay PHCN bill.
"I begged him not to put us in darkness since I always pay my bills regularly. When the PHCN bills are brought, we often don't see it, the landlady will just call us one by one and tell us that N3,000 is our bill and whether we like it or not, we must pay.
"When he insulted me, I left to enter my room. I never knew he was following me. I suddenly looked back and as he tried to attack me with a machete, I blocked it thinking it was a stick, but I got it wrong. In the process, my right hand was cut off with the sharp cutlass. What can I do now? He has rendered me useless. What can I now do with one hand to survive?"
One of the tenants who begged for anonymity said: "we had to run for our dear lives because he was holding a cutlass and ready to kill. His mother also gives us problem everyday and always threatens our lives."
The victim's pregnant wife, Mrs. Mayowa Arowosegbe, amidst tears, said, "please, I am begging good people of Nigeria and Lagos State to come to my husband's aid so that he can use his right hand again. I am a mother of two children expecting another one with this pregnancy."
The victim, Arowosegbe is receiving treatment at Mayfair Medical Centre, Okekoto, Agege, while the suspect is currently being detained at Oke-Odo police station.
—Oluwole Adeboye
Load more