The 2010 National Youths Service Corps Director-General Cultural Arts and Sports  Festival, which ended weekend at the Nigeria Armed Forces Resettlment Centre, Oshodi saw  the Ondo State chapter emerging overall winners.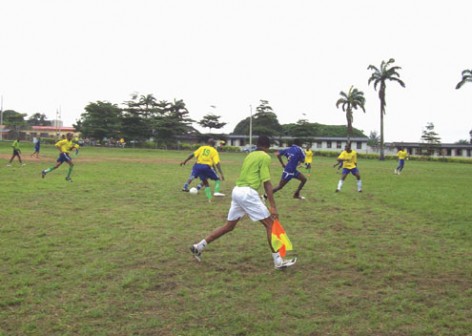 The football and volleyball teams of NYSC Ondo would move to the final tournament to be  staged in Abuja soon. Ondo defeated NYSC Kwara 3-1 in the final match of the volleyball  event, while the state overpowered Osun 4-0 before ending their last football match 0-0  with Kwara.
The festival  was organised annually by the NYSC to boost healthy competition and further  promote national unity and integration among the youths, who are serving their fatherland  in various states.
The corps members from five states competed in football, volleyball, dance, drama and  athletics, while the Lagos State contingent competed with their colleagues from the North  Central and Ekiti State at another zone.
The Public Relations Officer of NYSC Lagos, Mrs. Beatrice Aiyegoro said the competition,  which had about 4,000 corps members was free and fair, while the participants left the  venue in great mood.
Mrs Oye Bamgbose, who headed the Lagos Zone of the  LOC, said the participants exhibited  maturity at all the games and praised them for maintaining the facilities at the Armed  Forces Resettlement Centre.
Other corps members had their qualifiers at other zones in Kwara, Lagos, Rivers, Enugu,  Zamfara, Niger, Gombe and Akwa-Ibom.
Load more