Tuface Idibia will be having a special show on Sunday at the Eko Hotels and Suites. He  spoke about the significance of the show, his music, life style and other things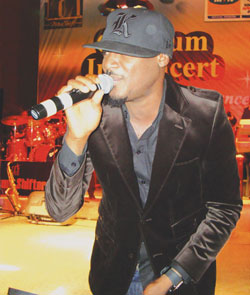 2face, wetin dey happen?
I dey oh.
What is happening to 2face for some time now, we have not heard from him?
Well, I have been doing something, at least, I dey try to arrange myself. I will be doing  a show on 26 September, 2010.
What are the expectations of your fans?
Plenty of things. I want my fans to come en mass because the show is like one-on-one as  it will be as if I am sitting with them in the backyard and just singing.
Is it a way of getting across to them in form of interaction?
Yes, you are right.
Your latest audio CD titled Unstoppable is being sold for N1,000 and people have been  complaining about this. Why is it so?
I think the pricing is right because of the quality of the songs and the its production.  It is only in Nigeria that you spend so much on production and get so little. In fact,  the price of an empty CD is more than a CD with music in Nigeria. It is only in Nigeria  that you find such a thing. I think an empty CD is sold for N500 while a CD with music is  N150. What is left for the artiste?
With your experience, can you say that it has been a success?
Oh yes, I will not say that I have sold over five million copies but I will prefer  selling about 100,000 copies and make my money rather than selling over three million  before breaking even. So far, so good, the response has been good because people now  realise that they have to go for quality things.
What has been your driving force, being the first to sell a CD for N1,000 per copy as  well as pioneer hip hop music star among other things?
I just want to be like a scape goat by sacrificing myself through experimenting with many  things and that is if it works, it is okay and if not, it is all well and good. But if it  works, it is for the betterment of everybody.
What do you like to sing about or what kind of lyrics influenced you?
I want to sing about everything. There is no topic I will run away from when it comes to  music.
Are you satisfied with the level of hip hop music in Nigeria today?
I will not classify myself as a hip hop artiste.
Then what kind of music do you play?
Na de problem be dat. I no get classification. If na makossa enter my head when I dey  write song, na that I go take write the song.
Only Me, What inspired the song?
It is about doing something so far. That you 'own' today does not mean that another  person cannot own tomorrow. If you dey reign today, e no mean say anther person no fit  reign tomorrow. That means that at every point in time, no be only you go get things.
What troubles and tribulations have you gone through in your career?
Well, there is this saying that what does not kill you will strengthen you. For me, I am  grateful to God. I am human, I have tried.
You expended so much energy on stage, do you take any stimulant?
No, for the fact that I like what I do, it gives me strength like Maradona. A lot of  people think he was on drugs but because he loved what he was doing then, he was able to  make it in football. For me, I love music, it is in my system. So, when I am on stage,  people see it in me.
How many kids and wives do you have officially?
Well, I have five kids from three lovely ladies. Abi na women I go call them or girls?
How do you see them?
It is not that I just try as much as I can to see them because I have little or no time.  I am in a lot of places.
Why did you decide to be polygamist?
I did not plan to have kids from different women but at a stage in my life, it happened  and I said I will not run away from it. I will stand and face the responsibility.
When are you getting married?
I never know oh!
Who among them will you marry?
It may be one of them, it may not be. If it happens, well, you will know.
Do you intend to have more kids?
Not now, maybe later.
Apart from music, what other things do you invest in?
All my investments are entertainment-oriented but now, I have been putting money in some  other things like property.
Where are the properties?
I cannot say, but I am into properties. I have three properties of my own in Benue, Lagos  and Abuja.
Do you see yourself as a superstar?
No, maybe when I buy my own private jet, then I can call myself super or even hyper star.
Tell us about your days in Enugu when you were known as Edy?
Dis name wey you dey call me don tay oh. Na few people know me for that name but I thank  God.
How do you manage stardom?
I am just myself. I know I am an artiste and if I do anything wrong, people will talk.  So, I try to be myself at every point in time.
Load more