Nigeria's senior football team, the Super Eagles continued their preparation in Abuja for  weekend's Nations Cup qualifier against Guinea, defying an indefinite ban on Nigeria by  the Federation of International football Federation, FIFA.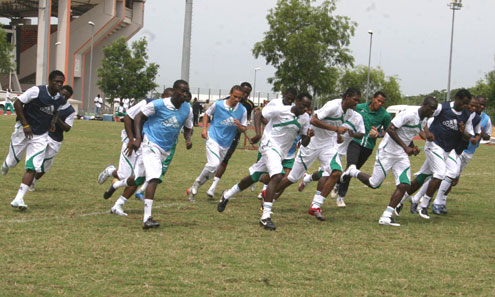 FIFA, on Monday suspended all international football activities involving Nigerian teams  because of what the body described as government's interference.
With the FIFA ban still on Nigeria, the Eagles and other national teams are not expected  to feature in any competition including friendly matches.
But, skipper Joseph Yobo and his teammates who have since reported at the Abuja camp  continued to train for the away match in Guinea which is in doubt.
Yobo, who made a passionate plea to Nigeria's sports authorities to ensure that the FIFA  ban on the country is reversed immediately said the Eagles have resolved to get in top  shape for the cracker in Guinea.
The Caretaker Coach, Austin Eguavoen and Yobo are about now concluding a meeting with the  Nigeria Football Federation, NFF, scribe at the Glass House in Abuja, where both parties  would agree on the next line of action.
Nigerian football has been dogged with in-fighting, court injunctions and government  interference for months after the dismal performance of the Eagles at this year's FIFA  World Cup in South Africa.
Load more