Lagos State Governor, Mr Babatunde Fashola (SAN) on Tuesday joined eminent personalities  like former Governor, Asiwaju Bola Ahmed Tinubu, and Deputy Governor, Princess Sarah  Adebisi Sosan to pay his last respects to the former Minister of Education, Professor  Aliu Babatunde Fafunwa at his lying in state in Victoria Island and fidau prayers at the  Tafawa Balewa Square, Lagos.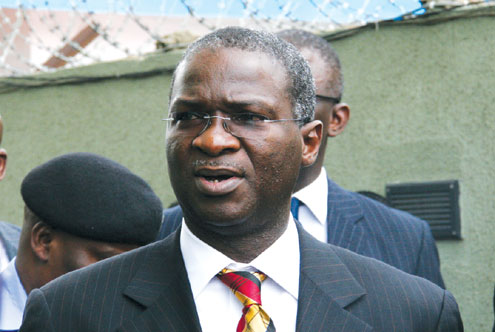 Governor Fashola first visited the Bendel Close, Victoria Island, Lagos residence of  Professor Fafunwa where he was received by family members. He condoled with the widow,  Mrs Doris Fafunwa and the children before paying his last respects to the body which laid  in state and also signed the condolence register.
The Governor also attended the fidau prayers organised for the deceased at the Tafawa  Balewa Square where he extolled the virtues of late Professor Fafunwa as a man who lived  a fulfilled life worthy of emulation.
Speaking earlier in an interview with newsmen at the residence of Professor Babatunde  Fafunwa, Governor Babatunde Fashola (SAN) described the renowned educationist's death as  a national loss.
Said he: "Here is somebody who dedicated his life and energy towards the development of  education which is still a challenge for this country. I hope that we will find a  rallying point to re-energise our efforts and our capabilities to develop and strengthen  education in this country as an honour and tribute to him so that his efforts would not  be in vain".
The governor, who stated that the government and people of Lagos State mourn with the  family, described the death as a very painful separation, but that thanks must be given  to God for the benefit of the association with him.
He described the late Professor as: "Our own gift from Lagos to this country and the  continent and somebody who served this country and his people with dedication and  honour".
According to Governor Fashola, "It is indeed very ironic that at 87, he did not get tired  to serve and it was while serving that he answered the final call. We thank God for his  life and pray that God grants him Aljanah Firdaus."
Load more