The range of vehicles wearing the stylish Kia badge in Nigeria will soon be widened when  the all-new Cerato 5-door hatchback is unveiled by Dana Motors, official distributor of  Kia brand of vehicles.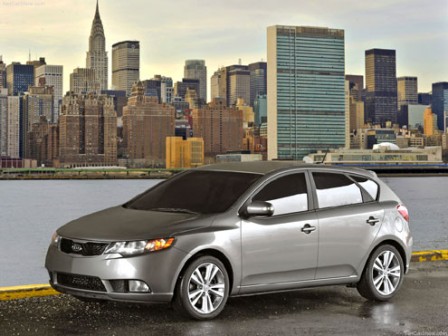 According to sources from the auto company, they are introducing a third member of the  Cerato family – the 5-door Hatchback, to strengthen its representation in what is  arguably the world's most important market sector – the ultra-competitive C-segment. Kia  anticipates that demand for C-segment hatchbacks across markets outside Europe will grow  to more than 1.2 million units by 2012.
"The availability of this third bodystyle for our C-segment model will enable Kia dealers  to meet the needs of a broader range of customers. This derivative will boost total  Cerato sales to an even higher level all around the world, improving Kia's fortunes by  capturing a larger market share," comments Hyoung-Keun Lee, Vice Chairman, Kia Motors  Corporation.
Technically similar to its sedan and Koup sister cars, the new Cerato 5-door has the same  overall width, height and wheelbase as the sedan, but the rear overhang is reduced by 190  mm, as is the overall length, so the 5-door model is 4,340 mm long.  Despite its more  compact dimensions, the hatchback's cargo volume of 385 liters (VDA) is highly  competitive in its class.
The roof, rear side panels, C-pillar, tailgate, rear bumper, light clusters and two-tone  spoiler are all new.  At the front, bold styling incorporates a new radiator grille, new  lower air-intake grille and new-shape fog lamps.  The door mirrors are new, with LED  repeaters, and re-styled 'double five-spoke' 16-inch and 17-inch alloy wheels that is  available.
Similarly, the car company announced that its global sales figures for passenger cars  (export sales, domestic sales and sales from overseas plants), recreational vehicles  (RVs) and commercial vehicles for September 2010, recorded a total of 187,251 units sold.   This figure represents a year-on-year increase of 20.6%. In September, Kia posted  year-on-year sales increases in all regions of the world –  44.4% in general markets  (41,425 units sold), 33.2% in North America (34,816 units sold), 24.8% in China (31,645  units sold), 8.7% in Europe (39,174 units sold) and 3.0% in Korea (40,191 units sold).
Load more