Unknown to many, Yakubu Adesokan, who won a gold medal for Nigeria at the recently concluded Delhi 2010 Commonwealth Games, was not born a disabled.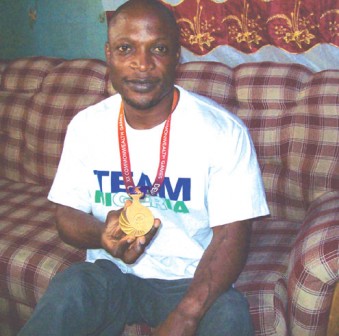 This was the pathetic revelation from his mother, Mrs. Mulikat Adesokan, while fielding questions from P.M.Sports last weekend at their home in Odenjo-Academy area of Ibadan.
With tears of joy on her face, Mrs. Adesokan said: "I'm happy to hear of my son's achievement. This is unbelievable. That Yakubu has done us proud as a family gives me great joy. So, that boy, whom everybody taught would die a cripple, has won a gold medal for Nigeria in far away India? To God be the glory".
Mrs. Mulikat said the Adesokan family faced a hectic time bringing Yakubu up when a strange ailment suddenly crippled and changed him from a normal child.
"Yakubu was born just like my other children. He was very robust and bubbling with life till he turned a year and two months. He was already walking at that time and had no sign of any sickness.
"But, on that fateful day, exactly 40 days after my husband returned from Mecca, where he performed the Hajj that year, I noticed that my son was not playing with other kids as expected. I ran to him to know what went wrong. On getting to him, his body temperature had risen.
"I quickly gave him a cold shower, but when the situation did not change, I shouted for help and was advised to take him to the hospital. And surprisingly, the boy could not walk again. His legs started changing, getting thinner. That was how I burst into tears and, and…", thus Yakubu's mother narrated his son's ordeal amidst tears in Ibadan.
Mrs. Mulikat disclosed that the family spent their fortune in vain for over two decades, trying to get Yakubu back on his feet, the situation that denied his elder sisters and brothers an opportunity to complete their education.
The proud mother of seven children however praised his son's 'never say die' approach to life and congratulated him for his gallant display at the Commonwealth Games in India, where he won gold medal.
Yakubu, who competed in the 44.8kg for Nigeria lifted 175kg in India and shattered the 155kg world record set at the last Commonwealth Games in Melbourne.
—Tunde Oyedele/Ibadan
Copyright protected by Digiprove © 2010 P.M.News
Load more