Two Nigerian players, who put up impressive performances to cruise to the second  round of the 10th Governor's Cup Lagos Tennis Championship, believe they have what  it takes to make strong impact in the ITF approved tourney this year.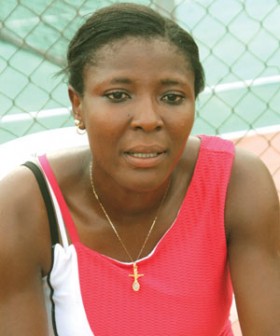 Nigeria's Davis Cup player, Abdulmumini Babalola, and CBN Open women's singles  champion, Fatimah Abinu, proved bookmakers wrong in the first round of the Main  Draws, when they upset ranked foreign players in their respective matches in Futures  1 of the tourney .
Babalola stopped Ivorian Valentine Sanon, who is ranked number 606 in the world, in  straight sets of 6-4,6-2, while Abinu was too hot for American Alexandra Riley (923)  in another straight sets of 6-1,6-4.
Babalola said: "I believe I can do it this time around. There is no big deal in the  games of the foreign players. If only we can raise our games a little, we can always  beat them."
Abinu, who will be facing   tournament number one female player, Kucova Zuzana, in  the second round match, said she was not afraid of the Slovakia player who won both  Futures 1 and 2 last year.
"I'm not thinking much of my next match. I'll take the matches as they come. I'm not  afraid of my second round opponent, I'm ready to play my game," she said.
Meanwhile, the opening ceremony of the Governor's Cup Lagos will be held today. The  brief  informal ceremony will start by 3p.m. at the Lagos Lawn Tennis Club, Onikan.
According to the Tournament Director, Prince Wale Oladunjoye, officials of the  sponsors, Etisalat Nigeria and FCMB Plc, have been invited to be part of the  ceremony.
"Though the tournament has begun since 15 October, the opening ceremony will be a  brief event to declare the 10th edition of the championship opened
"Usually, it is not a big event unlike the closing ceremony. We are expecting  officials of our major sponsors to be part of the event and other invited guests  from the Lagos State government," said the Senior Special Assistant on Grassroots  Sports to Governor Babatunde Raji Fashola.
Copyright protected by Digiprove © 2010 P.M.News
Load more