Boy Westerhof of Holland was a delight to watch when he defeated Sunday Emmanuel of  Nigeria 7-5, 6-4 in the first round of the Main Draws at the ongoing Governor's Cup  Lagos Tennis Championship. Westerhof, who won the Futures 1 in the 2008 edition of  the ITF approved tournament,lost yesterday's match to Weintraub Amir of Israel. He   told SUNDAY AKINTOYE at the  Lagos Lawn Tennis Club, Onikan that though, he is out  of the Futures 1, but his ultimate target is to win something in the second leg of  the competition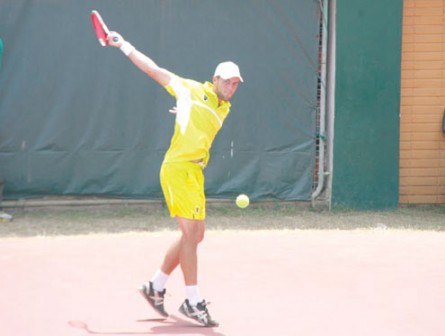 How would you rate your performance against Nigerian player, Sunday Emmanuel?
It was a good performance. Emmanuel was a good player no doubt. You can see how he  stretched me in the first set of the game. He almost defeated me. If he continues  that way, he would be a player to watch out for in the future. Anyway, we  played a  good game, but I was better than him.
That must be your best performance in this year's tourney.
My best is yet to come. I take each game as it comes. You saw my game with Clifford,  another Nigerian player, where I beat him 6-3,6-0. My target is to remain focus but  it's a bit difficult to repeat the feat of 2008 edition, where I won one of the  Futures. I have a lot of challenges ahead of me.
Then Thursday's match, you won the first set 6-4 but finally lost 2-6, 4-6 to Amir.  How do you feel about that?
Well, it was a tough game but Amir was better and deserve to move ahead. I still  have the Futures 2 to win something.
Since you arrived the country, how have you been enjoying yourself?
I must confess, I'm having a good time in Nigeria. I am happy to be in Lagos again.  The people here are friendly and accommodating. From my interaction with some of the  players, I can see that the local players have the potentials to be great in tennis,   if there is an enabling environment.
After this championship, what's next for you?
To improve myself in tennis, one must feature  regularly in  tournaments both within  and outside his country. This will improve my rating on world ranking and get the  necessary exposure. I'm in Lagos for the Governor's Cup and after this competition,  I'm going to Turkey for another competition.
Copyright protected by Digiprove © 2010 P.M.News
Load more