Ex-international Gift Okunwa believes that Nigeria's Super Falcons are the team to  beat at this year's Afican Women Championship, AWC which kicks off on Sunday in  South Africa.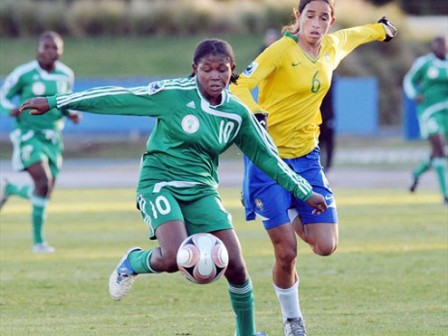 Satisfied with Falcons' 21-man list for the biennial football fiesta, Okunwa told  SuperSport.com in Lagos that the mixture of old and young players is a wise choice  that will see the five-time African champion excel.
"The 21-man list is good, it is a combination of the Under-17, Under-20, a few of  them that were at the recent Fifa World Cup and the Super Falcons players.
"Of course, when you talk of AWC age and experience come into play, you cannot take  it away from the older players who are more experienced and exposed."
The former U-20 player said over confidence robbed the Falcons of victory in  Equatorial Guinea two years ago. She explained to SuperSport.com that the incumbent  coach being the first women coach to lead Falcons to AWC will correct that mistake  and bring the trophy back home.
"I am sure it was over confidence that caused Falcons' the title and it will not  repeat itself again. They underrated their opponents and before  they knew it,  Equatorial Guinea have won the title.
"Eucharia will never want a repeat; she is a wonderful thing happening to women  football in Nigeria, the first women coach to lead Falcons to AWC. I am confident  she will come back home victorious.
"There is unity among the players and the coaching crew that is the tonic to excel."
On the impact of the absentee professionals on the team's title quest and countries  that will pose hard nuts to crack, Okunwa said time of minnows in African football  has gone, and however predicted a final clash between the Falcons and Black Queens  of Ghana.
"African women football has grown, it is almost impossible to make accurate  prediction because every country now is eager to come out victorious but I am sure  Nigeria will play in the final possibly against Ghana.
"Ikidi, Uwak and Sarah Michael would be missed but not much because the young ones  in the team are equal to the task. You cannot remove experience though but they will  cope," she said.
Super Falcons were expected to arrive South Africa for their first match against  Mali on 1 November before they play rivals South Africa and new comers Tanzania on 7  November.
The other group has title holders Equatorial Guinea, Ghana, Cameroun and Algeria.
Top two teams in each group will qualify for the semifinal, while the finalists  qualify automatically for the Fifa World Cup in Germany next year.
Copyright protected by Digiprove © 2010 P.M.News
Load more