The Nigeria Police has begun the overhauling and downsizing of its mobile force in a bid to professionalise it, Mr. Hafiz Ringim, the Inspector-General of Police, has said.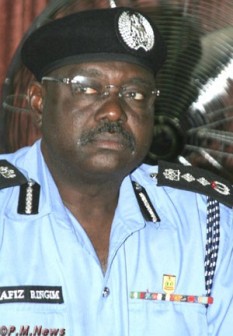 Ringim announced this in Abuja on Wednesday at his maiden conference with senior police officers.
He said he had directed the immediate disbandment of the multiple crime squads in the country due to their inefficiency.
Ringim also said that the Federal Highway and border patrol teams, as well as surveillance, intelligence and anti-robbery units would soon be restructured for proactive policing.
He expressed regret that the Police Mobile Force had compromised its traditional role of serving as the operational "punching arm" in dealing with tasking and riotous situations.
"As we all know, it is the traditional role of the police mobile force to serve as the operational punching arm of the force, thereby providing succour in the protection of lives and property.
"Regrettably, this is no more the case, as the police mobile force has been subjected to performing unprofessional and degrading duties," the Inspector-General said.
Ringim said that when he assumed duty, the relatively subdued restiveness in the Niger Delta, Boko Haram's renewed rampage and killings in Plateau State were some of the problem that needed urgent attention.
He said that kidnapping frenzy in the South East and the "structural flaws" in the police were some of the issues that also called for urgent attention.
Ringim charged the senior officers to review their supervisory mechanisms to ensure that the police become an embodiment of respect for human dignity and professionalism in line with best practices.
"We are tired of image battering by members of the public,'' he said, warning that officers who failed to purge the force of brutality and unethical conducts would be sanctioned.
Ringim said proactive measures were more pertinent now, especially as preparations for the 2011 elections were unfolding.
"It is the practice all over the world to use the police performance as litmus test for government's readiness and ability to conduct credible elections.
"We cannot afford to fail Nigerians, especially at this time when government is collaborating with the private sector in implementing the recommendations of the police reform with appreciable progress,'' he said.
Ringim stressed the need to build institutional capacity anchored on collective commitment of officers and men of the force, assuring them that welfare and motivation would be given priority.
The Inspector-General, however, warned that the police would compulsorily retire any personnel who failed to pass prescribed promotion examination after two attempts.
The News Agency of Nigeria (NAN) reports that the 12 newly elevated Commissioners of Police (CPs) were decorated with their new ranks of Assistant Inspectors-General of Police (AIGs) during the conference.
Copyright protected by Digiprove © 2010 P.M.News
Load more