Nigeria's main militant group, the Movement for the Emancipation of the Niger Delta,  said its fighters blew up a pipeline that supplies crude to the country's Warri  Refinery.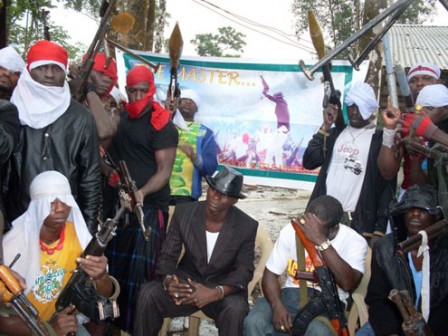 The attack on the link to the 125,000-barrel-a-day refinery took place on Nov. 21,  Jomo Gbomo, a spokesman for the group known as MEND, said in an e-mailed statement  today. The "attack and similar attacks on pipelines which will take place within the  next few days" are to show "the futility of wasting the nations resources in  combating militancy without addressing the underlying causes of agitation in the  Niger Delta."
A pipeline belonging to the Nigerian National Petroleum Corp. was sabotaged, Levi  Ajuonuma, a spokesman for the state- owned energy company, said yesterday without  giving details on the operations of the refinery. Nigeria is the fifth-largest  source of U.S. oil imports.
The southern Niger delta, which is home to nation's oil and gas industry, has been  hit by a surge of violence in recent months after a period of relative calm that  followed a government amnesty in 2009 and the disarming of thousands of militant  fighters. In response to the attacks, the Nigerian army ordered an offensive against  rebels last week.
The pipeline that supplies crude to the plant in Warri is also the source of oil for  the refinery in the northern city of Kaduna. The 110,000-barrel-a-day Kaduna  refinery is operating after a minor glitch, Ajuonuma said.
Nigeria's four state-run oil refineries are producing at about 30 percent of  capacity, the Department of Petroleum Resources that oversees the country's oil and  gas industry said on Nov. 15. Africa's biggest crude producer relies on fuel imports  for more than 70 percent of its domestic needs, according to the Petroleum Ministry.
MEND says it is fighting for local control of oil revenue by the ethnic minorities  of the delta, alleging domination by Nigeria's majority ethnic groups.
Royal Dutch Shell Plc, Exxon Mobil Corp., Chevron Corp., Total SA and Eni SpA run  joint ventures with NNPC that pump most of the West African nation's oil.
Copyright protected by Digiprove © 2010 P.M.News
Load more