Former Governor of Lagos State, South West Nigeria, Asiwaju Bola Tinubu has  described the new Governor of Osun State, Engr. Rauf Aregbesola, as a surgeon who  will repair the decay in Osun.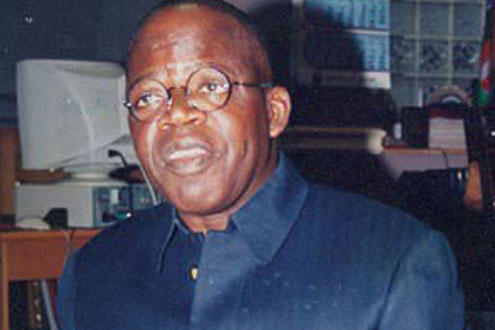 Tinubu stated this in Osogbo, Osun State, at the swearing in ceremony of Aregbesola.
The former governor thanked God for his mercy and commended the youths and members  of the Action Congress of Nigeria for demonstrating courage in the struggle to  liberate Osun State.
He called on the generality of the Osun people to be patient with Aregbesola because  he has the capability to develop the state much faster and better.
Tinubu said the house of deceit and falsehood built by the People's Democratic Party  in the Southwest was crumbling.
Speaking at the event, Governor of Lagos State, Babatunde Fashola said those alive  to witness the event must take pains to record and remember Friday, 26 November and  Saturday, 27 November, 2010 in their diaries and in their hearts.
According to him, the dates are not a watershed but dates when the constancy of  truth prevailed over a mountain of lies.
"Secondly, it marks the commencement of the development of what will be the best  political party building process ever undertaken in Africa. A party built by the  common and ordinary people, driven by their absolute faith in freedom, democracy,  good governance and the rule of law that is symbolized by an independent and  fearless judiciary," he stated.
The governor affirmed that freedom and good governance were beginning to unravel in  Nigeria, saying that "it is on a journey to liberate our people. It is travelling in  the vehicle of the Action Congress of Nigeria. It has found home in Lagos, Edo,  Ekiti and Osun. It is coming your way."
He called for the cooperation of all in the task of rebuilding Osun State, adding  that the task ahead demanded the collective input of every stakeholder as the new  governor cannot do it alone.
Fashola noted that when he was sworn in in May 2007, he was the only ACN governor,  but was reassured by the leaders of the party that more would come. He expressed  happiness that the number was increasing.
In his own speech, Aregbesola promised to rededicate himself to the cause of  building Osun State by delivering on his electioneering campaign promises. He told  the people that they now have a government of their own totally responsible to them.
—Kazeem Ugbodaga
Copyright protected by Digiprove © 2010 P.M.News
Load more