A former Nigerian Ambassador to Cote D'Ivoire, Alhaji AbdulGaniy Folorunsho Abdulrazak has declared that the godfather of Kwara politics and the Turaki of Ilorin, Dr. Olusola Saraki, is not from Kwara State but an Egba man from Ogun State.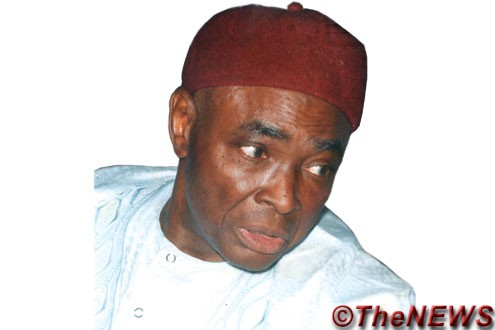 In an interview published in this week's edition of TheNEWS magazine, Alhaji Abdulrazak narrated how he became a close friend of Dr. Saraki's father, the late Alhaji Muttahiru Saraki and what the older Saraki told him about his ancestry.
According to the former ambassador, Alhaji Muttahiru Saraki visited him one Sunday at home and they had an important and historic discussion.
Alhaji Abdulrazak recalled: "He asked me where I come from. I told him I am from Ilorin. Alhaji Saraki said he was an Egba man from Abeokuta. By this time I did not even know the existence of Olusola Saraki. So, the man told me he was from Abeokuta but he went to a Quranic School in Ilorin at Agbaji, an area reputed for Islamic scholarship. The man with his own mouth told me he was an Egba man from Abeokuta. This was in early 1963."
Alhaji Abdulrazak disclosed that Alhaji Muttahiru Saraki introduced his son, Olusola Saraki, to him who at that time was studying Medicine in London. He recollected that at their first meeting, as the then young Saraki stretched out his hand to shake him, his father slapped him. But he calmed the elder Saraki. After the first meeting, the father said he was putting the younger Saraki in his care, stressing, "Take care of him for me."
"Alhaji Muttahiru Saraki, the father of Sola is dead now, and he is in the right place. If I am telling lies, he is hearing. That was how I met Sola Saraki. And I told him that it was good that as a young man, he is a professional. I advised him to return home to participate in politics. I am talking of 1963."
Alhaji Abdulrazak also recounted that when Dr. Saraki wanted to enter politics in 1964, he contacted him, adding, "he told me that he decided to heed the advice I gave him in Abidjan to go into politics."
He also identified a daughter of the late Alhaji Muttahiru Saraki as Iya Alaro who is married to an indigene of Ilorin. Alhaji Abdulrazak also remembered that Dr. Saraki's father had a male child older than Dr. Saraki. But the man did not have Western education. And he might have settled back in Lagos or Abeokuta.
On how he met Dr. Saraki's father, Alhaji Abdulrazak said: "In 1962, I was appointed Ambassador of Nigeria to Cote d'Ivoire and one of those who met me at the port as part of the Nigerian community in Abidjan turned out to be the father of Olusola Saraki, Alhaji Muttahiru Saraki. As an ambassador there, my second secretary in the embassy, Ignatius Olisemeka, who later became Foreign Affairs Minister, led officials of the embassy to come and meet me. That was around September or October 1962.  "In those days, there was only one flight from Lagos to other West African countries. Ships plied the coast of West Africa, carrying some passengers. One of the ships named General Mangaine travelled on the West African coast, stopping at principal ports. After leaving the Cameroons, it came to Lagos, where I went aboard together with Ado Ibrahim, who is now the Emir of Kano. Both of us were appointed the same day as ambassadors; he to Senegal, I to Ivory Coast. We went with our respective families, stopping at several ports along the way until we finally disembarked at Abidjan.
"I observed that the crowd that came to meet me at the port was divided into two groups. I asked Olisemeka (his secretary)  why members of the Nigerian community that came to meet me were waving different banners and were standing apart, not mixing. "He explained that the division was caused by a fighting over who would lead the Nigerian community.
"When I asked who the contenders were, he said one Alhaji Muttahiru Saraki and Emmanuel Alabi.
"I said I was not prepared to work with a divided community. I also told them that I had not invited them to the embassy to hear why they were fighting. I said from their looks, Muttahiru Saraki would be the older person. And because of that I was recognising him as the leader of the community. And against my expectation, Alabi stood up and prostrated before Saraki, holding his leg and saying, 'I accept you as my leader.' And I told him he will be Saraki's deputy.
Copyright protected by Digiprove © 2010 P.M.News
Load more