The Governor of Lagos State, Babatunde Fashola, tonight tackled the governorship candidate of the Peoples Democratic Party (PDP), Ade Dosunmu in the ongoing debate organised by Channels Television.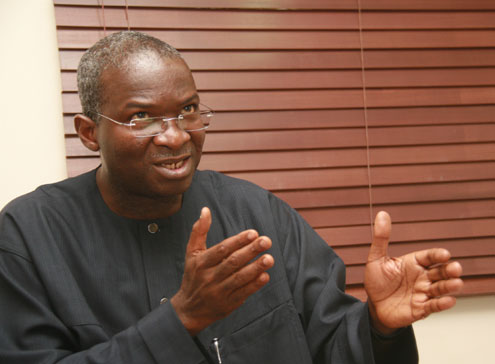 The debate took place between four of the governorship candidates in the state on the platform of various political parties.
Fashola also denied that he sought for a job with Dosunmu in the civil service.
Dosunmu had accused the governor of lack of accountability, stressing that he had inflated contracts awarded within the last four years.
Dosunmu said the 50-kilometer Lekki-Epe Expressway was constructed with the sum of N50 billion.
"Such contract will be put in the Guinness Book of World Records," Dosunmu said.
Dosunmu challenged the governor to make public how much he spent on the projects in the state.
He also said that as a product of public school, he had mapped out strategies to ensure that those who attended such schools are not left frustrated.
Fashola on his part said he never worked in the civil service until he became the Chief of Staff to the State government under Bola Tinubu.
According to him, his experience and intelligence were the reasons why he was chosen as the Chief of Staff.
The governor said that he never hid the amount on projects, saying such amounts were on the internet.
He said, "it is a blatant lie that I sought for job with you. I have never worked in the civil service before."
The governor said he would continue to do his best for the state.
He also told those who came to witness the debate that Dosunmu was sacked in the first place he worked in the civil service.
He also told them that during the era of Dosunmu at the helm of affairs at the Nigerian Maritime and Safety Agency (NIMASA), the agency never bought their own generator, but depended on borrowing of generators at the price of N150,000 daily.
.
Dosunmu however denied knowledge of the accusation.
The debate was still going on as at the time of filing this report.
By Eromosele Ebhomele