Delta State-born Emmanuel Chukwuwinke is an amateur boxer,  who fights in the Middleweight category. The 24-year old pugilist told ADEBOBOLA ALAWODE why he is into boxing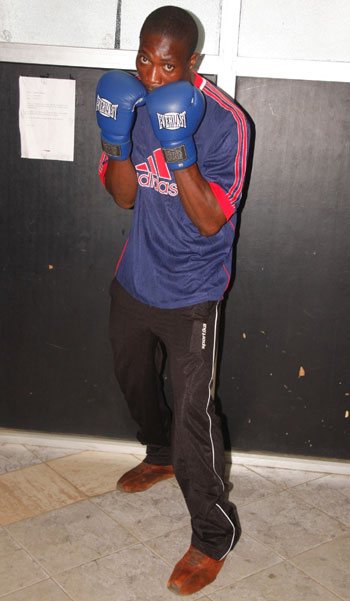 When did you start boxing?


I started boxing about three years ago. It is the love I have  for the sport that motivated  me. I'm also learning  boxing  because I also don't want to be anybody to intimidate me on the streets.
Have you been molested on the streets before?
No, I have not, but I have seen people been harrased by social miscreants. To avoid  such situation, I learnt how to fight.
Since you started boxing have you ever had a break?
Yes, I actually stopped because of financial constraints. The sport is rewarding, but  you also have to pay your coach, get money for  transportation to the gym, and treat yourself whenever you have injury.  I  took a break when I didn't have enough money to cover the expenses.
Why did you return to the ring?
I returned to boxing because of the forthcoming National Sports Festival in Rivers State.  I would like to be part of it.
Which state are you willing to represent at the National Sports Festival?
For now I have no  state in mind. I'm still waiting for a state with the best offer  to  come for me.
Why don't you represent  your state ?
That I'm from Delta State does not mean I must represent the state. It all depends on the best offer that comes my way.
Do you think, you can get close to the medal zone at the National Sports Festival?
My aim of competing at the festival is to win. I want to return to any state that I will represent in the festival  with a gold medal.
Where do you train?
I train at the World Class Boxing Academy, Army Sports Camp, Yaba, Lagos.
How will you rate the facilities in the gym?
The gym is okay,  better than a number of gyms in Lagos State and even across the country. How will you rate boxing in Nigeria?
Boxing in Nigeria has bright prospects. It is just that the Federal Government and the National Sports Commission, NSC have not done enough to help the sport developed. In other countries, boxing tournaments are held on a weekly basis but same cannot be said of Nigeria.
What is the way forward?
There is need for authorities concerned to be up and doing.  Every sport in the country should enjoy equal attention; it is not only football that should be getting the biggest chunk of the budgetary allocation for sports.
The NSC should take it upon itself to build boxing gyms in all the geo-political zones. The NSC should employ instructors to  teach amateur boxers the rudiments of the game and there should  be a kind of inter zonal championship. These will help boxing in Nigeria.
You have been boxing for three years now, have you had a fight ?
To be sincere I have not had any fight. I have only been sparring with other boxers in the gym for me to be fit.  I hope to step into the ring very soon. I just don't want to fight for the sake of it, but I want a meaning bout that I will be proud of.
You have not had a competitive fight and you are dreaming of winning a gold medal at the next National Sports Festival, how do you intend to achieve this?
I quite agree with you, but with the level of training that I'm getting. I believe no boxer can stop my dream of clinching a gold medal in the middleweight category at the festival.
Who is your boxing mentor?
My boxing mentor is the former champion, Lenox Lewis, the most recent undisputed World Heavyweight Champion. I choose him as my mentor because of the way he fought in the ring.