"We are in the right frame of mind now and ready to face the challenges of our opponents from Ethiopia. We have heard about their antecedents. They have been boasting and threatening to embarrasss us, but we will play hard to silence them in Abuja."
The above statement came from skipper Joseph Yobo and his teammates while speaking on their 2012 African Cup of Nations qualifying match against the Wayla Antelopes of Ethiopia in Abuja on Sunday.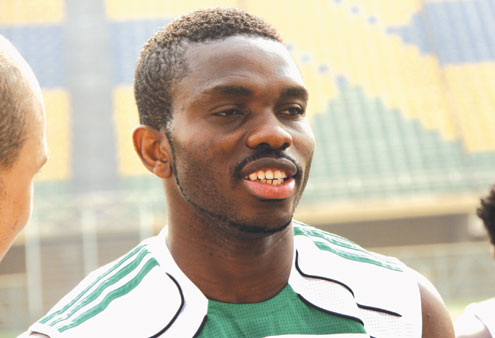 Yobo, who took over the leadership of the Eagles from Nwankwo Kanu after the 2010 World Cup in South Africa, says they have a big task against the visitors.
"The match will be tough from the beginning, especially now that we are starting with a new set of players and technical crew. But, we will work hard and play to achieve a common goal," he said in Abuja.
Obinna Nsofor, Joel Obi and other players also expressed optimism that the Eagles will make Nigerians proud at the end of the crunchy cracker. Samson Siasia rode a wave of overwhelming popular support to be named Nigerian coach on a four-year contract in December last year. But the 43-year-old former Eagle and Nantes player is also the first to point out that if the results do not come, he could easily be the most vilified man in this football-mad country of over 150 million souls.
Having lost to Guinea in Conakry 1-0 last October before Siasia took over, Nigeria know they will need to make up those three points. So, pressure is high, heading into their home qualifier this weekend, a match that will mark the half-way point of qualifying.
It is a thin line between love and hate and Siasia already got a hint of this last month, when his Eagles were booed as Sierra Leone pulled a goal back in a 2-1 friendly win in Lagos.
"It was a good start, and I am pleased with the team. We had a lot of injuries to deal with," said Siasia about his debut. "But we lost our shape in the second half against Sierra Leone in the friendly, and I was not fully impressed with the defence. We need to work more on this area."
Having gone through over a dozen coaching changes since their last major international laurel at senior level, the historic Olympic gold at Atlanta '96, the two-time African champions are anxious to reassert their standing as one of the continent's elite sides. As a long-time international and a key figure for the side that won the Cup of Nations and reached the second round of the FIFA World Cup in 1994, the hope is that Siasia's appointment can re-ignite those glory days. He faces a big task, no doubt.
An elegant striker in his playing days, Siasia has set about rebuilding an attack short on confidence and flair. For the Ethiopia match he has called up eight attackers in his 22-man squad, including a first recall for Obafemi Martins since South Africa 2010 and long-term injury Ikechukwu Uche. Siasia says that he's interested in exploring all of his options, and seeing where Uche is in his recovery.
Siasia's roster includes four domestic players, but it has a strong emphasis on players that he knew from his youth team days. With so many attackers, there are still concerns at the back with 'central defender of the future' Michael Odibe failing to impress against Sierra Leone.
Although John Mikel Obi has been struggling with a knee injury, he should be in the holding midfield role to help shield the defence.