Nine suspected armed robbers who specialised in snatching exotic cars have been arrested by the police in Lagos, South-West Nigeria.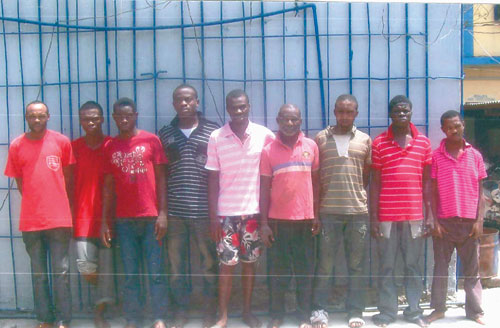 The suspects are: Otochukwu Eze, their leader, Emeka Okoro, Ndubuisi Edeh, Bright Dickson, Alex Ofem, Onuora Udeh, Chima Fidelis, who serves as armourer and Kalu Nduka.
P.M.NEWS investigation revealed that four of them recently snatched a KIA Rio car from a woman who left her church at about 11p.m at Yaba, Lagos. They later drove it to Ajah used it to Intercept a new Prado SUV. But unknown to them, the police at Ajah Division had earlier received a radio message about the stolen car.
The police chased them.And in attempt to get the robbers arrested, three escaped while the driver was apprehended.
He led the police detectives attached to the State CID, Panti, Yaba, to their hideout at Ebute Oyingbo, where other suspects were arrested.
Their leader, Otochukwu Ezeh, in his confessional statement to the police said: "We sell fairly used clothes at Yaba market to deceive people but at night we go out to snatch cars. We have been doing it for one and a half years. We live in plank houses so that people would not  suspect us.
"We specialise in snatching neat good cars which we drive to Agbara, Ogun State to a man who links us with the buyer, an Alhaji from Cotonou, Benin Republic.
He usually gave us N200,000 or N150,000 for each vehicle and we share it.
"Our target in a week is usually to get eights cars."
Their armourer, Chima Fidelis,  a 62-year old grandpa said: "I keep their guns for them and I get N50,000 at the end of each operation.
"I accepted to keep guns for them because my children refused to take proper care of me."
Meanwhile, the police at the State CID, Panti, Yaba are on the trail of the stolen cars they sold in Agbara and the buyer in Cotonou, while the suspects have been charged to Ebute Metta Magistrate's Court in Lagos.
The suspects were ordered to be remanded in prison custody at Apapa, Lagos.
—Oluwole Adeboye